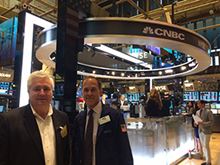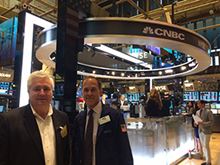 August 2014 – Charles West pictured with Raymond James trading partner at NYSE
As part of our ongoing efforts toward continuing education and due diligence our team members consistently attend educational seminars, economic summits, and conduct site visits with its investment management partners. Staying abreast of timely financial currents and economic trends are key to providing sound unbiased guidance for our clients.
---
Independent Retirement Associates partners with industry veterans for Global Dynamic Tactical Investment Management expertise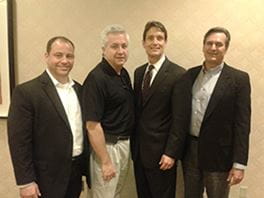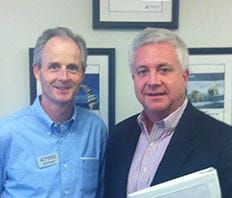 Michael Jones serves as Chairman and Chief Investment Officer of Riverfront Investment Group (click here for more information), bringing more than 25 years of global investment experience to his role in leading the organization.
Michael's primary investment responsibility is setting the firm's overall asset allocation strategy and ensuring appropriate investment and risk management processes are applied to all of the firm's portfolio decisions. In addition, he serves on the firm's Operating Committee.
Prior to launching RiverFront in 2008, Michael was the Chief Investment Officer at Wachovia Securities from 2002. In this capacity, he was responsible for all aspects of financial advice, including asset allocation, tactical strategy and portfolio implementation and managed over $75B in discretionary portfolio assets.
Michael began his career in fixed income portfolio management, serving in a variety of roles cumulating in his promotion to Chief Fixed Income Officer for Mentor Investment Group. While at Mentor and its succor firm, Evergreen Investment Management, Michael managed over $12 billion in high grade and high yield fixed income assets and was responsible for the design and implementation of advanced fixed income and risk management analytics.
Michael is a regular guest on the financial news channels (CNBC, Bloomberg) and is frequently quoted in the financial press.
Michael earned a BA in Economics from the College of William and Mary and an MBA from the Wharton School at the University of Pennsylvania. He received his CFA designation in 1990. Click here for Michael Jones Full Bio Rod Smyth serves as Partner and Chief Investment Strategist of Riverfront Investment Group (click here for more information), bringing more than 30 years of global investment experience in leading the investment strategy and tactical team. In addition, he serves on the firm's Operating Committee.
Prior to launching RiverFront, Rod was the Chief Investment Strategist for Wachovia Securities.
Rod, an Irishman, has lived, worked, and invested in Europe, Asia and North America during his tenure in the investment business. From 1982 to 1995, he was based in Europe as a global portfolio manager and in Asia as the investment strategist for a leading British investment bank.
In 1995, Rod moved to Richmond to work for Wachovia Securities and its predecessor firms where he combined both roles serving as the firm's Chief Investment Strategist for eight years and as portfolio manager for its Global Asset Allocation portfolios. Rod is also the current Chairman of the Investment Advisory Committee for the $50 bil Virginia State Retirement System.
Rod is a regular guest on the financial news channels (CNBC, Bloomberg) and is frequently quoted in the financial press.
Rod earned an MA in Economics from Dundee University in Scotland. Click here for Rod Smyth full Bio
Riverfront Investment Group, Michael Jones, Rod Smyth, and Eric Halter are independent of Raymond James.
---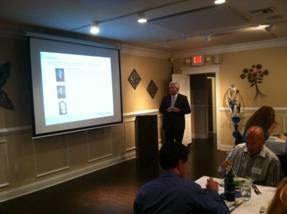 April 18, 2012 – Valparaiso, FL – Independent Retirement Associates addresses Emerald Coast Health Alliance Annual Meeting
Charles C. West, ChFC® was the featured speaker at the 2012 Annual Meeting of the Emerald Coast Health Alliance in a dinner setting at the Compass Rose Restaurant in Valparaiso, FL. The Emerald Coast Health Alliance (ECHA) is an organization formed and owned by local healthcare providers. It is an Independent Practice Association (IPA) established to provide patients, employers, and payors in the region with a multi-specialty network of high quality physicians and other healthcare providers. The Emerald Coast Health Alliance currently has 150 member providers. The members are trained in specialties from Anesthesia to Urology, and include Family Practitioners and Internists for ongoing health maintenance of the entire family. They also have several Member Facilities including Hyperbaric Medical Oxygen Treatment Center, Institute of Diagnostic Imaging, The Breast Clinic, The Surgery Center at Sacred Heart Medical Park and White Sands Physical Therapy. Charles highlighted updates and pending legislation to the retirement plan industry and providers, as well as general financial and retirement planning education.
April 11, 2012 – Ft. Walton Beach, FL – "Renowned Global Equity Strategist visits Raymond James in Suite 100"
Doug Sandler, CFA, Chief Equity Officer with Riverfront Investment Group of Richmond, VA visited with Raymond James financial planners Charles West, ChFC® and Eric Halter on Wednesday morning in Suite 100 at FNBT.com Bank in Fort Walton Beach, FL. Doug is a partner in Riverfront Investment Group and his opinion is highly regarded in the investment community.
He does regular appearances on CNBC, Bloomberg TV as well as speaks globally to various investment groups. His visit was to provide updated market and economic insight to top advisors throughout the U.S. allowing them to have face to face due diligence rapport with investment managers who make global money management decisions on a daily basis.
Eric Halter, Doug Sandler, Charles West
Doug Sandler on CNBC April 4, 2012

Charles C. West Earns Chartered Financial Consultant® (ChFC®) Designation, Financial Planning's Highest Standard
April 2, 2012 – Ft. Walton Beach, FL – Charles C. West, ChFC® of Independent Retirement Associates, an independent firm, and a financial advisor with Raymond James has earned the Chartered Financial Consultant® (ChFC®) professional designation from The American College, Bryn Mawr, PA.
Candidates for the ChFC® must complete the most extensive educational program required for any financial services credential. Each ChFC® must complete eight or more college level courses and 16 hours of supervised examinations on all aspects of financial planning from The American College, a non-profit educator with the highest level of academic accreditation. They must also fulfill stringent experience and ethics requirements.
As financial planning's highest standard, the ChFC® program prepares professionals to meet the advanced financial planning needs of individuals, professionals, and small-business owners. ChFC's can identify and establish specific goals and then formulate, implement and monitor a comprehensive plan to achieve those goals. Individuals who earn the ChFC® can provide expert advice on a broad range of financial topics including financial planning, wealth accumulation and estate planning, income taxation, life and health insurance, business taxation and planning, investments and retirement planning.
With over 22 years of experience, Charles' and his team at Independent Retirement Associates focus on long term management of retirement assets and providing a transition from an accumulation and growth strategy, to a distribution and income strategy that is sustainable throughout one's lifetime, and ultimately transferring assets to heirs.
The American College is dedicated to leadership in innovative training and development that helps financial services companies and their employees succeed. The College has served as a valued business partner to banks, brokerage firms, insurance companies and others for over 82 years. The American College's faculty represents some the financial services industry's foremost thought leaders. For more information, visit TheAmericanCollege.edu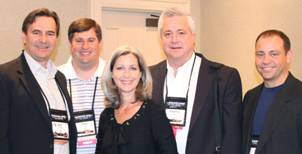 Independent Retirement Associates Meet with former CNBC Chief Economist & Co-Host of Squawk Box – Marci Rossell
April 2010 – Nashville, TN – As part of our commitment to continued education and keeping abreast of cutting edge economic data, the associates of Independent Retirement Associates gained insight and economic updates from industry expert Marci Rossell. Attending an economic summit sponsored by Raymond James, Marci was one of many high profile economist on hand to provide face to face discussion of global economic conditions, trends, and future forecast with Raymond James financial planners. After earning her Ph.D. in economics from SMU, Marci began her career as an economist for the Federal Reserve Bank of Dallas, later becoming an expert witness for Deloitte & Touche, and spokesperson for Oppenhiemer Funds, one of the nation's largest mutual fund companies, and then on to be CNBC Chief Economist and Co-Host of Squawk Box.
Raymond James is not affiliated with any of the organizations or events listed.