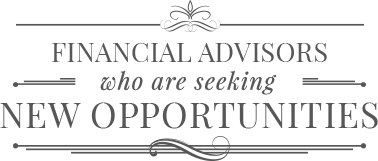 We meet a lot of advisors who have worked at various firms, but never seem to find the satisfaction they seek. Many work at wirehouses, but they want to do more not only for themselves, but for their clients.
At the Winter Park Wealth Group, our team has stripped away the red tape and layers of management, so you can have more time and fewer expenses and headaches operating your own book of business, enabling you to better focus on your clients.
We're looking for the right fit – and so are you. Our mission is to serve as one of Central Florida's premier independent financial firms, offering all the services and expertise of Wall Street – and experienced and credentialed advisors who share their unbridled enthusiasm for the area and the clients they serve.
Would you find it refreshing to finally work at a firm that truly cares about its advisors? A place where you are able to run your business without being held captive? A place that gives you the freedom to leave at any time if you wish – with your clients? If this is what you're looking for, welcome home.
To learn more about this exciting, career-enhancing opportunity, let's have a comfortable conversation in complete confidentiality.
---
All fields marked with (*) are required.