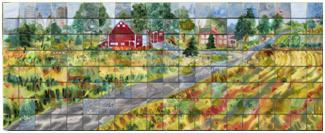 Amy Burton - was honored to be included as one of the Everyday Stars in The Murosity Project's mural to be placed in the Parkview Regional Medical Center.
The Murosity Project is a community-based art project reflecting generosity through a mosaic of images, that, when place together, form a mural. Area high school students, professional artists, celebrities and Parkview physicians and coworkers participated in painting 160 canvases and honoring Everyday Stars. The individual canvases, such as the one painted by Genois Wilson honoring Amy Burton as shown on next to the logo and part of the mural shown to the left.
Amy joins a distinguished list of individuals that are represented in the mural who give of themselves to make our community a better place to live. You may learn more about The Murosity Project at www.Murosity.com.