A personalized approach
to managing wealth
We are proud that John Gill is recognized by Forbes as a "2023 Best-In-State Wealth Advisor"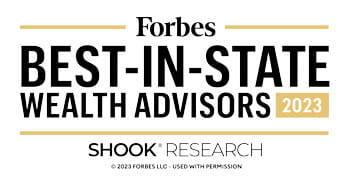 Forbes Top Wealth Advisors Best-In-State (2023)
The Forbes Top Wealth Advisors Best-In-State 2023 ranking, developed by SHOOK Research, is based on an algorithm of qualitative criteria, mostly gained through telephone and in-person due diligence interviews, and quantitative data. This ranking is based upon the period from 6/30/2021 to 6/30/2022 and was released on 4/4/2023. Those advisors that are considered have a minimum of seven years of experience, and the algorithm weights factors like revenue trends, assets under management, compliance records, industry experience and those that encompass best practices in their practices and approach to working with clients. Portfolio performance is not a criteria due to varying client objectives and lack of audited data. Out of approximately 39,007 nominations, 7,321 advisors received the award. This ranking is not indicative of an advisor's future performance, is not an endorsement, and may not be representative of individual clients' experience. Neither Raymond James nor any of its Financial Advisors or RIA firms pay a fee in exchange for this award/rating. Raymond James is not affiliated with Forbes or Shook Research, LLC. Please visit https://www.forbes.com/best-in-state-wealth-advisors for more info.
You are an individual who doesn't just jump to conclusions. Your decisions are carefully weighed and deliberated with cautious consideration.
When seeking financial advice, you seek a counterpart who is equally as deliberate in delivering carefully measured guidance.
We are driven not only by years of experience, but by disciplined planning, attentive insight and analytical capabilities. Our objective is to serve as your trusted financial partner – to help you arrive at the informed decisions you value, and enjoy the confidence in knowing that every financial matter is fully addressed.
There's more to your financial life than just investments. Comprehensive planning encompasses an in-depth review and analysis of all aspects of your financial life – to help you see the big picture and enable us to personalize a plan for addressing every detail.
---
Happiness is not in the mere possession of money; it lies in the joy of achievement, in the thrill of creative effort.