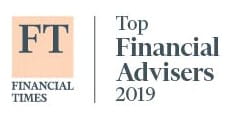 Bill Hoyt has more than 26 years of experience in the securities industry. He joined Raymond James in 1993 and built his practice specializing in private wealth management for high net worth families and institutional investment consulting for endowments and foundations. Bill's thorough knowledge of the securities industry, combined with his integrity, enables him to provide sound investment advice and customize financial plans to his clients' unique needs and goals.
In recognition for his dedication to clients, Bill was named to the 2017, 2018 and 2019 Financial Times 400 Top Financial Advisors*. The Financial Times recognizes top financial advisors at national, independent, regional and bank broker-dealers from across the United States.
Barron's included Bill as one of America's Top 1200 Financial Advisors by State in 2018 and 2019**. This prestigious listing draws from all 50 states, plus the District of Columbia, and is the largest, most comprehensive annual advisor listing circulated by Barron's.
In 2019, Bill was recognized by Forbes Best-In-State Wealth Advisors***. The Best-In-State Wealth Advisors list spotlights over 2,000 top-performing advisors across the country who were nominated by their firms – and then researched, interviewed and assigned a ranking within their respective states.
Bill attained the CERTIFIED FINANCIAL PLANNER™ professional certification in 1998 and the Certified Investment Management Analyst™ (CIMA®) designation from the Wharton School at the University of Pennsylvania in 2008. The CIMA® certification covers essential investment management consulting topics such as asset allocation, behavioral finance, manager selection, and portfolio construction and, therefore, provides advisors with knowledge commensurate with high-level institutional money management consultants. In addition, Bill recently earned the Certified Private Wealth Advisor® designation from the University of Chicago Booth School Of Business. The CPWA® designation, delivered by Investment Management Consultants Association (IMCA) is the only advanced designation designed for financial advisors and consultants who work with high-net-worth clients on the life cycle of wealth.
Active in the St. Petersburg community, Bill is a current member of the Salvation Army's advisory board as well as a past treasurer and board member of Help-A-Child, Inc. and a past board member of the Florida International Museum. A lifelong resident of St. Petersburg, Florida, Bill received his Bachelor's Degree in Finance from the University of South Florida. He joined Raymond James in 1993, founding the Hoyt Planning Group. He later partnered with Jeff Hearn to found Hearn Hoyt Wealth Management in 2003 and in 2014 David Ramsey joined the team to form Hearn Hoyt Ramsey Wealth Management of Raymond James.
When he isn't working with clients or giving back to his community, you'll likely find Bill on the water. He is an avid fly fisherman and enjoys boating, diving, tennis and spending time with his wife, Silvia, and three daughters, Abigail, Emily and Olivia.