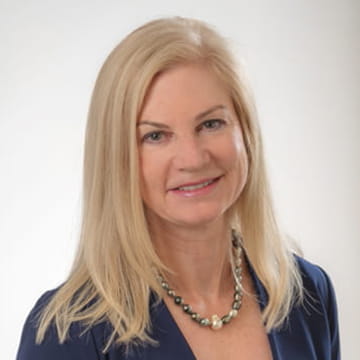 Anne
Bedinger,
WMS™
Vice President, Investment
Anne is the founder, heart, and soul of the Wealth Wellness Group of Raymond James. She is a Vice President of Investments with Raymond James. She serves individuals and entire families in all stages of their lives. She engages with her clients and maintains a deep understanding of their needs and values through an intensive discovery process. She helps clients navigate transitions, anticipate critical events, and plan for lifelong financial security. In partnership with her clients, Anne creates and maintains comprehensive financial plans specifically tailored to their needs and adjusted through all the life and financial transitions each client experiences.
As an entrepreneur and business owner, she demonstrates a rigorously disciplined, thoughtful process to adjust plans and investments. Her approach is designed to help clients pursue their most important goals with the resources to enjoy the next phase of their financial lives.
Through her role as the leader of Wealth Wellness Group, Anne is responsible for developing, implementing, and managing all aspects of client financial planning. This includes all investment management, transition planning, risk management, disability and long-term care insurance, education funding strategies, and retirement planning. In collaboration with CPAs, estate attorneys, and property and casualty insurance agents, she also helps client with tax-efficient investing and wealth transfer strategies.
In addition to obtaining the necessary licenses, Anne earned the Wealth Management Specialist™ certificate, which must be renewed every two years. The curriculum covered topics such as Management of Risk and Return, The Asset Allocation Process, Investment Strategies, Tax Implications and Strategies in the Financial Planning Process, Education Funding, Business Ownership and Planning, Retirement Planning Considerations, Estate Planning, and more.
Anne has earned the Certified Financial Transitionist designation through the Sudden Money Institute. A Financial Transitionist® is a professional with an established career in the financial services industry who recognizes the importance and the power of the personal side of money and the unique challenges of transitions. Financial Transitionists® bring processes and tools to guiding their clients through the impact of life transitions on their finances.
Anne's Certified Aging-In-Place Specialist (CAPS) Designation through the National Association of Home Builders (NAHB) has given her the knowledge of what it takes to modify a home to be able to live in it longer. She has the ability to refer clients to other professionals (e.g., builders, architects, designers) who have the CAPS certification.
Certified Financial Transitionist® – Sudden Money® Institute (2016)
Wealth Management Specialist (2004)
Series 7, Exam (1986) Series 65, Advisory Exam (2002) Series 63 and Managed Futures (2003) Series 31
Insurance license in Life, Health, Variable Annuities, Variable Life, Long Term Care, Fixed Annuities and Life (1992 & 1993)
Bachelor of Science in Finance – Virginia Polytechnic Institute
Anne Bedinger' FINRA Broker Check Record
Anne is a strong advocate for women in the financial planning industry. She is a founding member of the Raymond James Women's Leadership Alliance, which was created to attract, develop, and engage promising women leaders in the financial advisory profession. She is also a mentor in the Raymond James mentoring program and a member of the Retirement Solutions Advisory Board.
Anne is active in professional and community organizations, including the Financial Planners Association, 100 + Women Who Care, and the Delray Beach Historical Society.
She is also a volunteer with Horses Healing Hearts, a local charitable organization. An avid exotic car enthusiast, Anne also enjoys traveling, art, cross-training, and Pilates.
Tune in below to hear Anne Bedinger discuss the wealth and wellness financial journey as a guest of the Sudden Money Insights Podcast hosted by Susan Bradley.

Click Here to Listen
Raymond James is not affiliated with the Sudden Money® Institute.
Investing involves risk and you may incur a profit or loss regardless of strategy selected.
Raymond James does not provide tax or legal services. Please discuss these matters with the appropriate professional.
Insurance and annuities offered through Raymond James Insurance Group. Raymond James & Associates, Inc. is affiliated with Raymond James Insurance Group.