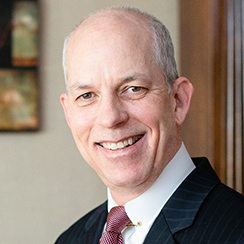 Ellis Green, CIMA®, AIF®, CPFA®
Managing Director Senior Vice President, Investments
Ellis has been providing professional advice to individuals, corporations and retirement plans since 1983. Helping people tune out the noise and make informed decisions to face the future with anticipation rather than apprehension is the most rewarding thing he does. Joining Raymond James in 1994, he specializes in all facets of wealth management, including estate planning, financial planning, insurance analysis, risk management and investment allocation, as well as equity-based compensation planning for corporate executives.
Ellis works to engage all of your trusted advisors in the process, including estate planning attorneys and CPAs to build panoramic, all-encompassing plans that will secure your financial legacy. As founder of Green Wealth Management Group, he has the accumulated knowledge and perspective to help keep you and your financial future on a steady course.
As your investing needs – and your life – evolve, so does your vision for the future and your risk tolerance. Understanding the dynamics of wealth and how to balance the complex forces at work, Ellis helps adapt your portfolio intelligently as conditions change. With you every step of the way, he offers sound advice and customized financial solutions designed specifically for you and works hard to help pursue your financial goals with as much confidence, and as little risk, as possible.
A native of Atlanta, Ellis graduated from Vanderbilt University in 1980 with a degree in economics. He completed the investment management analyst program at the Wharton School of the University of Pennsylvania. His professional credentials include Certified Investment Management Analyst, Accredited Investment Fiduciary and Certified Plan Fiduciary Advisor. At Raymond James, he is a member of the Financial Advisors Council, the Retirement Plan Advisory Council and the Chairman's Council* (1996-2016).
Ellis' community involvement includes serving for 10 years on the national board of the American Liver Foundation, where he led patient and physician forums across the U.S. to raise awareness and fund research for liver disease, and also chaired the investment committee. When not in the office, Ellis and his wife, Cathy, enjoy spending time with their two grown daughters as well as travel, golf, fishing, snow skiing and most outdoor sports.
* Membership is based mainly on assets under management, education, credentials and fiscal year production. Requalification is required annually. The ranking may not be representative of any one client's experience, is not an endorsement, and is not indicative of future performance. Neither Raymond James nor any of its Financial Advisors pay a fee in exchange for this award/rating.
Investment Management Consultants Association (IMCA®) is the owner of the certification marks "CIMA®," and "Certified Investment Management Analyst®." Use of CIMA® or Certified Investment Management Analyst® signifies that the user has successfully completed IMCA's initial and ongoing credentialing requirements for investment management consultants.
*Raymond James is not affiliated with the entities mentioned.