Advisory Process
Our five step process is as much of an art as it is a science.
THE ART:
Understand
You have unique interests, passions, and goals. Briggs Wealth Management is committed to learning about you, and what is important to you and your family. Developing a clear understanding of your family, interests, and passions enables us to create customized wealth management solutions to help you realize your lifestyle goals
Analyze
You've worked hard to earn and build your wealth. Briggs Wealth Management uses specific tools to analyze your family needs, current financial situation, investment experience, risk tolerance, and time horizon.
THE SCIENCE:
Design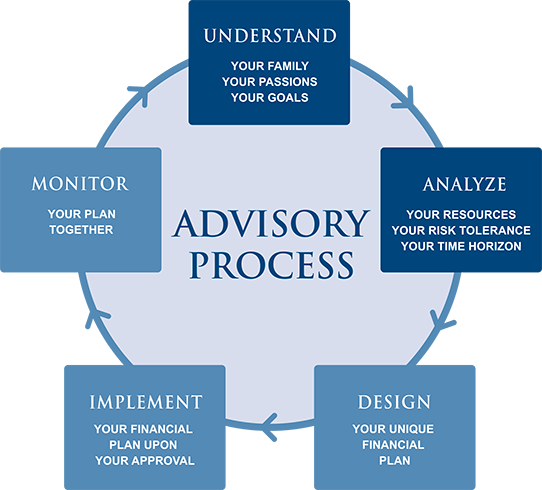 Goal Planning & Monitoring* is an innovative and collaborative planning tool to help you to create a realistic plan designed to meet your specific goals.
Implement
It is important that your plan be implemented efficiently. Once you approve your customized plan, Briggs Wealth Management will execute it in a timely manner, and keep you informed throughout the process.
Manage
Because your family, your goals, and your financial situation continually change throughout your lifetime, Briggs Wealth Management will review your customized plan and suggest revisions as needed. Keys to this step are your involvement and regular communications.
Investing involves risk and you may incur a profit or loss regardless of strategy selected.