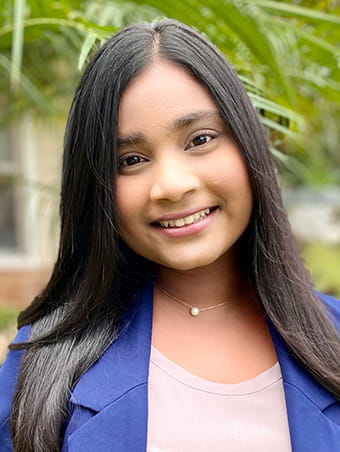 Kavary
Ragbir
Client Service Associate
Kavary joined Wealth Solution Partners of Raymond James as a newly hired CSA in June of 2021. She had worked as a science teacher for 6 years, molding, encouraging and being a guiding force to students and peers at her institution. Her role over the years has culminated the skills of listening, anticipating and reassuring an individual through various scenarios and aspects of their life. These assets to engage with others, have made her a welcoming and valuable member to a team that seeks to go above and beyond in ensuring that their clients always feel prioritized and cared for.
Kavary was born in New York but grew up in the small island of Trinidad. She moved to the states at 19 and earned her BS degree in Geology, at USF Tampa in May of 2014. Being an only child, Kavary developed her character throughout the years to make valuable connections to people. Before, throughout and after college, she became a worldly traveler, honing these intrapersonal skills, to readily adapt, be open minded and furthermore understanding to different cultures and situations, which ultimately led her to this destined career path with Raymond James.
Kavary currently resides in St. Petersburg with her boyfriend, and her two cats that she's had since they were kittens. She's a very adventurous person and loves any outdoor activities, travelling, cooking food from around the world, reading, and of course spending quality time with those close to her. She is excited to begin this new journey in the financial field, towards a fulfilling and rewarding career.