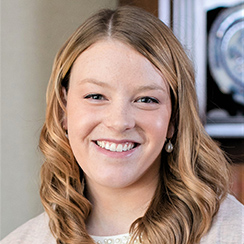 Ashley Moss, CFP®, AAMS®, WMS
CERTIFIED FINANCIAL PLANNER™ Professional Financial Advisor
With her knowledge, Ashley helps clients see all of the pieces of the financial puzzle and develop a comprehensive plan for their unique circumstances. She helps to give them all of the information they need to make good decisions, and the confidence to live life with anticipation. Whether personal financial planning, saving for retirement, exploring college funding, navigating insurance, or legacy and estate planning, she helps clients discover the right plan for them.
Ashley graduated cum laude from Texas Christian University with a Bachelor of Science degree in environmental science and minors in both business and energy technology & management. She is a graduate of the Raymond James Advisor Mastery Program (AMP), an intensive training curriculum offering comprehensive education for the next generation of Raymond James financial advisors. Ashley has earned her Wealth Management Specialist (WMS) designation and the Accredited Asset Management Specialist (AAMS) designation. She is also a CERTIFIED FINANCIAL PLANNER™ professional, one of the most respected financial planning credentials among consumers and the recognized standard of excellence in personal financial planning. Additionally, Ashley was named a member of the 2017 Achievers Club in recognition of her personal accomplishments in 2016.*
Ashley grew up under the strong influence and example of her father, Ellis Green. She has a true understanding gained from lessons learned at a young age in regard to planning, saving and investing in the future. Drawn to the financial services industry because of her passion for working closely with clients, she works to help them feel more confident about their ability to meet their financial goals.
As a member of Green Wealth Management Group, Ashley draws upon the accumulated knowledge and experience of our entire team to help keep you and your financial future on the ideal path. She also works together with other professionals, such as estate planning attorneys and CPAs, to design, implement and manage financial plans to help clients reach their goals and objectives.
Ashley joined Green Wealth Management Group in 2015 after working for two years in the environmental division of Burns & McDonnell Engineering. She enjoys giving back and is involved with the Young Adult Council at Peachtree Road United Methodist Church. The council plans outreach events throughout the Atlanta area on a monthly basis and helps to bring young people together for faith and fellowship throughout the year. In her free time, she enjoys cheering on the Texas Christian University Horned Frogs, golfing, hiking, cooking and gardening, and is a member of the Delta Gamma fraternity.
Membership is based mainly on assets under management, education, credentials and fiscal year production. Requalification is required annually. The ranking may not be representative of any one client's experience, is not an endorsement, and is not indicative of advisor's future performance. No fee is paid in exchange for this award/rating.
Certified Financial Planner Board of Standards Inc. owns the certification marks CFP®, CERTIFIED FINANCIAL PLANNER™ and CFP® in the U.S., which it awards to individuals who successfully complete CFP Board's initial and ongoing certification requirements.
*Raymond James is not affiliated with the entities mentioned.