Our Financial Planning Process
We engage in complete financial planning with our clients, which ensures that we gain a clear understanding of your goals, objectives and current circumstances. We then use our resources, knowledge and expertise to provide advice and develop a long-term relationship of trust and understanding. We believe that your financial plan needs to be dynamic and responsive to your changing life and needs.
To develop a plan personalized to your individual needs, situation and investment style, we follow the comprehensive, four-step process that we have developed and refined. It is designed to help us gain a true sense of who you are and what you expect.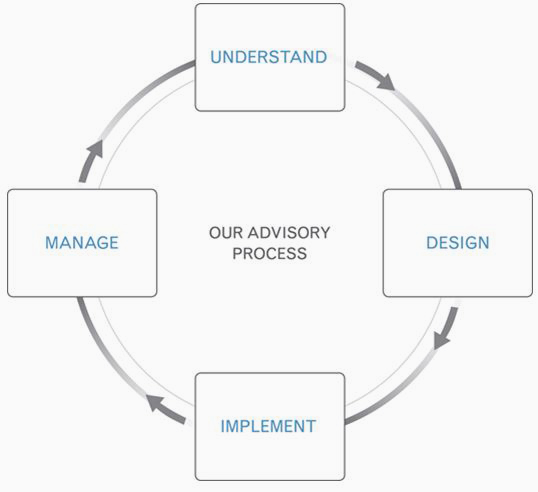 Personalized planning tools
Built on the five pillars of financial planning, the dashboard focuses on areas including retirement, investment, estate, tax and risk planning. This distinct approach provides actionable steps to help keep you on track as your life unfolds. Whether you're 30 years old and starting a family, 50 years old and selling a business, 65 years old and looking to retirement – or anywhere in between – this customized road map shows you steps to incorporate a healthy financial plan in your life. Progress meters provide accountability to show those areas where your plan is strong, and identify areas of concern to address for continued success.
Visualize your future
This collaborative tool helps us work with you to build and compare multiple scenarios side-by-side – helping us see how different decisions, strategies or risks affect the likelihood of meeting all of your goals. We "stress test" your plan to help ensure it can withstand the unexpected, such as inflation, changes in your or your family's health needs, or even an unexpected death. We will manage your plan, and you can track your progress online at any time by logging into your account via Investor Access.