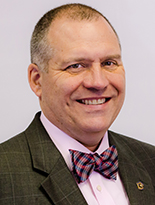 Rick Lambert, MBA, CFP®
Wealth Strategist
As the owner and operator of an independent financial services practice, Rick serves the financial planning and wealth management needs of clients. With access to the vast resources of Raymond James, one of the top independent financial services companies in the country, he is able to fully personalize plans to each client's unique situation and help them serve their needs. Before opening Iron Horse Wealth Strategies in 2015, Rick worked as a financial advisor at Edward Jones.
Although his titles include President/CEO of Iron Horse Wealth Strategies, Branch Manager and Registered Principal, RJFS, the title he wants to be known by to his clients is Wealth Strategist. Since becoming a financial advisor in 2002, Rick's dedication to both his clients and the business has only grown stronger, as evidenced in his completion of the rigorous CFP® program in 2007. The Certified Financial Planner™ certification also means he abides by the CFP® board's Code of Ethics and Professional Responsibility and Rules of Conduct – which reinforces putting clients' interests first – and he continues to meet ongoing continuing education and certification renewal requirements.
Before joining the financial services industry, Rick proudly served a 21-year military career, culminating in the position of Superintendent of Mobile Communications Systems for the Air Force Education and Training Command. His educational background includes a Bachelor of Science degree in business management from the University of Maryland, a Master of Business Administration degree from Florida State University, and a post-master's certificate in financial management from Northcentral University.
Through his business, Rick exercises his passion for education by helping clients fully understand their financial situations and the plans by which they will pursue their financial goals. He also serves as an adjunct professor with Liberty University's online program, teaching upper level undergraduate courses in the financial planning specialization of the business administration program.
If you've ever visited the Iron Horse Wealth Strategies office, it's hard not to notice that Rick is also an avid steam train enthusiast.
CFP®, Certified Financial Planner™ and

are certification marks owned by Certified Financial Planner Board of Standards Inc. (CFP Board), in the U.S., which it awards to individuals who successfully complete CFP Board's initial and ongoing certification requirements.