The stability and technology of
Raymond James
We are proud of our long-term affiliation with Raymond James, one of the largest independent financial services firms in the United States. Their conservative nature was very evident in the fact that they were one of the only major investment firms that did not take TARP money during the 2008 financial crisis.
Since its beginning in 1962, Raymond James has always been a different kind of company – embracing long-term planning and methodical decision-making while staying uncompromisingly client-focused. Raymond James is so hands-on with its administrative and processing assistance that this gives us even more time to serve our clients. The firm is ideally sized to provide direct accountability for issues and personal guidance when assistance is needed, but big enough to provide the full-service offerings of a typical Wall Street firm.
Raymond James provides the support and resources we need to help us best serve our clients: Award-winning investment research, operational and trading support, and access to industry experts and market-leading technologies.
Your financial world at your fingertips
Raymond James is on the cutting edge of emerging technologies. Investor Access enables account aggregation, integrated financial planning software (Goal Planning & Monitoring), a document vault, mobile check deposit and mobile app access for iPhone and Android.
Account aggregation offers you an optional, consolidated financial view connecting banks, credit card companies and brokerage firms, among other institutions all under one view within your Investor Access account. The Investor Access Goal Planning and Monitoring tab allows real-time modification to existing financial plans to track progress and note the impact of budgetary changes. Investor Access Vault gives you a single, secure place to store and share digital copies of your important documents. Mobile check deposit allows you to deposit checks directly to your Raymond James accounts from your cell phone at any hour of the day.
Our technology platforms encrypt your account information to prevent unauthorized users from viewing or tampering with it. The Investor Access Mobile app gives you easy access to your account from your tablet or smartphone.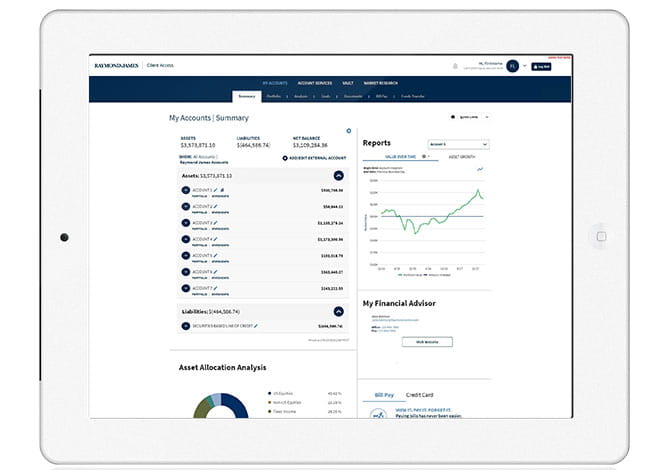 Watch a Tutorial about Client Access »
---
Download the Client Access app
For iPhones »
For Android phones »
---
A firm built
entirely around you.
Simply put, our business is people and their financial well-being. That is the foundation on which we were built. A culture of independence gives Raymond James advisors the freedom to offer advice based solely on your best interest. Not our bottom line. All guided by our core tenets of integrity and conservatism and putting clients first.
Learn More
We are in a people business,
inside as well as out.
---
Someone's sitting in the shade today because someone planted a tree a long time ago.