Hy Scheff
In memoriam
1929 – 2022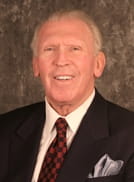 Hy Scheff – born on the eve of the Great Depression – spent more than six decades making others' financial well-being his life's calling, leaving an indelible mark on generations of Western New York families. In his career, he guided his clients through every kind of market the world could create, from the mid-century American industrial boom deep into the digital millennium. He was successful and well-regarded by his clients and his peers; was staunchly committed to his values of hard work, honesty and integrity; and took the effort to build up those around him.
Hy passed in 2022 at the age of 92.
At his 60-year anniversary in the business, Hy was interviewed by Raymond James to reflect on his career and his success. He said it was pretty simple: "Be honest with yourself and be honest with your accounts. Work very hard. Don't cut corners. You have to put the customer first."
His commitment to ethics led to his refusing to take his son, Alan, as a trainee. He felt it would send the wrong message. Alan pursued his career in Philadelphia but eventually returned to Western New York to work alongside his father – though in offices on the opposite sides of the building. Hy's wife, Marjorie, played an important role in that decision.
"My wife said to me, 'I can always get another husband, but I can't get another son,'" Hy said. Eventually the two men built a strong working relationship. In 2005, Hy stepped aside and Alan became the branch manager of their practice. But Hy had no intention of retiring. Unlike the many people he had helped plan and prepare for their retirements, Hy was content doing what he loved for as long as he could.
The world is richer for him having been part of it. He is missed, but his example and memory live on.