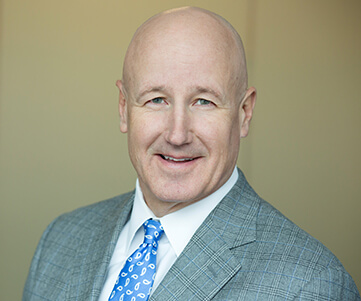 Peter R. Abuls, WMS®
Managing Director
Senior Vice President, Investments
---
As a principal of Abuls, Bone & Eller and a Wealth Management Specialist, Peter is responsible for development of the overall investment strategy and bond trading, and is a lead on managing client relationships. His professional interests are focused on the technical aspect of the markets. His in-depth knowledge of the fundamental and technical aspects of the markets is a highly valued component of the Abuls, Bone & Eller investment process.
Our independent focus is on managing risk and pursuing consistent-quality growth rates of capital.
Peter began his career in the securities industry in 1985. He earned his undergraduate degree at Tennessee Tech in 1982 and his MBA in finance at Western Michigan in 1984. He was named a member of the Raymond James Chairman's Council in 2023.* Peter is married and has three children. In his free time, he enjoys traveling and playing golf.
*Membership is based mainly on assets under management, education, credentials and fiscal year production. Requalification is required annually. The ranking may not be representative of any one client's experience, is not an endorsement, and is not indicative of advisor's future performance. No fee is paid in exchange for this award/rating.