From the Top of Haleakala, the View is Inspiring
Craig Pluta
CFP® CERTIFIED FINANCIAL PLANNER™
CRPC® Chartered Retirement Planning Counselor
As I sit here in Maui, I realize that I just might be as far from the hustle, bustle and chaos of the world as I can get. From this island of calm, if I glance to the southwest I find Sydney Australia 5600 miles in the distance, looking to the west is Tokyo at 4000 mi, to the east is California some 2500 miles and due north is Alaska over 3000 miles in the distance. Geographically this might just be the furthest point from any major landmass. A mere dot in the giant mass of deep blue North Pacific ocean. Which is why it is precisely the place to clearly think about the events of 2020 and what is to come in 2021 and beyond.
If you manage to keep the tv off and steer clear of social media there is actually little opportunity for doom and gloom to enter
Here in Maui the locals are happy to see travelers enter their world once again and the visitors are eager to share a smile, a drink and a conversation. Families are frolicking in the pools, surfing in the ocean and hiking in the rain forest. Visitors go to the top of Haleakala's 10,000 foot crater in the black of night where you look down onto the clouds and wait for the sunrise to break the cloud bed. What is absent and very evident is the doom and gloom that has been part of our lives for nearly a year now. If you manage to keep the tv off and steer clear of social media there is actually little opportunity for doom and gloom to enter. A cerebral calm in the storm as a walk along the beach reveals people doing morning yoga as the waves crash on the shore in a peaceful cadence. So, it's in this environment that I thought about our 2020 journey and where 2021 seems to be leading us. Separating the bamboo forest from the trees, so to speak, which by the way, was amazing.
It seems I've come full circle, since in March 2020 I was also sitting in Maui when the CoronaVirus hit the panic stage, the media went crazy, CNBC projected the next end of the world on a daily basis and the island shut down to visitors just 2 weeks later. Since then, we have produced a vaccine in astonishing time. What in the past would have taken 3-4 years was fast tracked to less than 1 year, and not because of short cuts, but because of resolve. Much has been made of the speed causing many to speculate that the vaccine must be inherently unsafe, instead of witnessing the incredible assemblence of resources that came to bear lifting wishes to reality, and possibly only rivaling the spectacular coordination of effort seen since WWII. Yet what seems to dominate the airwaves all the way down to the recesses of social media is how this Herculean effort has bugs and flaws. Like looking at a beautifully landscaped yard with a meticulously manicured lawn, and hearing someone remark "it has too much red fescue, they should have used more Kentucky Bluegrass" and not noticing the beauty in front of them.
George Orwell said "To see what is in front of one's nose requires a constant struggle"
It has been said that more progress has happened in the past 100 years than the prior 5,000 and I'm a whole- hearted believer, although today that may in fact be a minority opinion as we gravitate to the notion that everything is going to "hell in a handbasket" and have entered a state of "victimhood sheik." Aided by social media's "hey look, my life is cooler than yours" trend where the only 1's and 0's that break out of the digital noise is either the truly extraordinary or the truly horrific, has left us in a state where for the first time in history every demographic group is simultaneously convinced that they are the victim and deserve special attention. It's no wonder that George Orwell said "To see what is in front of one's nose requires a constant struggle"
The Past 100 Years
So consider this. In the past 100 years, extreme poverty has dropped by almost 90%. In 1910, according to Worldbank, 74% of the world's population was in extreme poverty and in 2015 that number had dropped to 9.9%. in fact, they point out that 1.1 Billion people have escaped extreme poverty just since 1990. Heck the world's population was only 1.08 billion in 1820! Yet despite that fact, the vast majority of people believe things have gotten worse.
In 1910, according to Worldbank, 74% of the world's population was in extreme poverty and in 2015 that number had dropped to 9.9%.
According to world data lab, on a global basis, in less than 10 years, (2030), the number of "poor" will be further reduced by 150 million, the "vulnerable" will be reduced by 900 million, the "rich" will increase by 100 million, and the middle class will increase by a whopping 1.7 billion people, allowing each of these demographic groups to pursue their hopes & dreams while at the same time becoming part of the ever expanding world economy. And with that comes certain implications for the future.
Yet, we have set an unwitting trap for ourselves by living in "The Gap". The Gap, is the space between where we are today be it personally, professionally or even economically, vs where we would like to be. If we live "in the Gap", only looking forward, we will always be dissatisfied as we compare everything in the "now"
to our future ideal. If we judge everything only by looking forward to that ideal, and see the gap that exists between where we are and where we'd like to be, we will always be dissatisfied. Yet, if we take a minute to turn around and see where we are vs where we came from, we would find that we have every reason to feel proud and energized by and with our progress. This applies to nearly everything in life. Living "in the gap" is like living in our own personal skull sized hell, where nothing is ever good enough and never the way it ought to be, even though our progress is simply amazing and would make your mama proud!
Trends and Developments
So with all that in mind here are a few trends and developments that I believe will take place over the next few years, say 2021-2024, which will have an impact on your portfolio:
-Trend #1: The Vaccine for CoronaVirus will become so widely available that there will be a glut of vaccine available worldwide possibly by the end of 2021, allowing all who want the vaccine to be able to get the vac- cine.
-Trend #2: Despite 28% of the US population claiming that they will not get the vaccine, I believe more and more will succumb to the fact that if they want to travel at all, a "vaccine passport" will become the norm and will be required, prompting more and more people who were on the sidelines to rethink their position and receive the vaccine, even if begrudgingly, and will push us over the threshold of herd immunity.
-Trend #3: Despite the naturally mutating virus, I believe vaccine makers will view new updated vaccines the same way that Microsoft looks at tweaks for Windows 10 or Apple looks at upgrades to it's iPhone operating system- as a necessary update, business as usual and no big deal.
-Trend #4: I believe the world's population will continue to migrate out of extreme poverty and drift ever so steadily to the expanding middle class providing an ever renewable source of growth both as consumerism and expanding worldwide GDP.
-Trend #5: with the pandemic largely behind us and the aforementioned growth of the middle class world- wide, in reaction to the pent up demand to do things both here and abroad, I believe the economies of the world will come together in a global synchronized growth not seen in half a century and leading to a a globally synchronized bull market in both GDP and individual wealth creation, which could usher in the greatest Bull Market in US and International history.
-Trend #6: I believe that GDP, with the new "average inflation target" annunciated by Jay Powell of the Federal Reserve in 2020, will likely usher in GDP of more than 4% and potentially up to 6%, not seen since the 1980's and confounding those who believe that the top speed of the economy is only 2%.
-Trend #7: I also believe that if all of the above takes place, the vast majority will look at each other and say "it should have been better, and isn't good enough" as the majority of people around the globe continue to live in the gap.
Conclusion
And there you have it. From the 2 mile high view from on top of Haleakala volcano the 2020's look to me to be a particularly exciting time to be alive and I'm excited to be a part of it, as you should also be. And with that....
I'm going to walk down to Dukes, grab a signature MaiTai, and saunter to Kaanapali Beach to heed Orwell's observation, take in tonight's sunset and remark to my wife "this is an amazing planet and I'm glad we are alive today!"
As spring comes into view, I look forward to speaking with each and every client as we enter our semiannual review period to share your thoughts, ideas and goals so that together we can chart the proper path for your financial futures and as the great hockey player Wayne Gretzky put it, to "skate to where the puck is going to be".
Mahalo,
Craig Pluta
Craig Pluta is a CFP® CERTIFIED FINANCIAL PLANNER™, CRPC® Chartered Retirement Planning Counselor, Financial PodCaster and President of Alliance Wealth Management Milwaukee, inc. He was named on Forbes Best-In-State Wealth Advisors in 2020 and is a member of the Chairmans Council at Raymond James Financial Services. You can hear more from Craig by tuning in to his monthly PodCast Wealth Vision 20/20, available worldwide on Spotify or by visiting his website at www.AwmMil.com.
You can also reach him at Craig.Pluta@raymondjames.com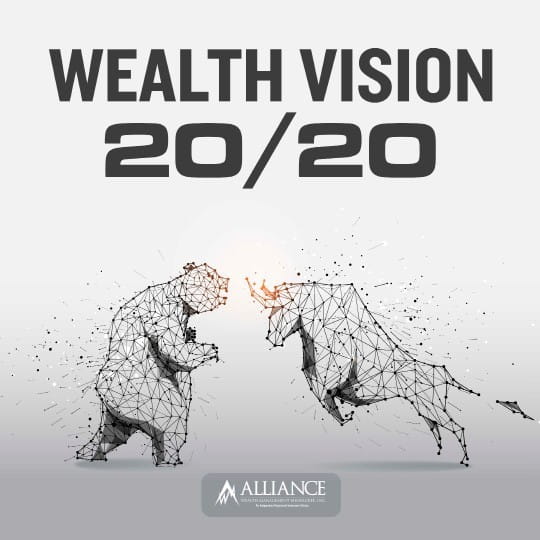 Raymond James Chairman's Council membership is based on prior fiscal year production. Re-qualification is required annually. The ranking may not be representative of any one client's experience, is not an endorsement, and is not indicative of advisors future performance. No fee is paid in exchange for this award/rating.
The Forbes ranking of Best-In-State Wealth Advisors, developed by SHOOK Research, is based on an algorithm of qualitative criteria, mostly gained through telephone and in-person due diligence interviews, and quantitative data. Those advisors that are considered have a minimum of seven years of experience, and the algorithm weights factors like revenue trends, assets under management, compliance records, industry experience and those that encompass best practices in their practices and approach to working with clients. Portfolio performance is not a criteria due to varying client objectives and lack of audited data. Out of approximately 32,000 nominations, more than 4,000 advisors received the award. This ranking is not indicative of advisor's future performance, is not an endorsement, and may not be representative of individual clients' experience. Neither Raymond James nor any of its Financial Advisors or RIA firms pay a fee in exchange for this award/rating. Raymond James is not affiliated with Forbes or Shook Research, LLC. Please visit https://www.forbes.com/best-in-state-wealth-advisors for more info.