Jim is a founding member and Managing Director of Princeton Wealth Advisors (PWA) of Raymond James. He previously served as a first vice president of investments and a wealth management advisor with Merrill Lynch, where he focused on advising high-net-worth clients for 15 years. Prior to joining Merrill Lynch, Jim spent 10 years as a financial advisor at Prudential Securities.
Before entering the financial services industry, Jim was employed in various positions with the Marriott Corporation. His last role was as a senior financial analyst where he became acquainted with Wall Street by virtue of analyzing many research reports on the airline and hospitality industries.
In 2002 Jim earned the Certified Investment Management AnalystSM designation offered through the Investment Management Consultants Association and The Wharton School of Business.
Jim has been recognized by:
Financial Times as one of the Top 400 Advisors across the United States in 2014, 2016, 2017, 2018 and 2019.
Barron's Top 1200 Advisors in 2014, 2015, 2016, 2017, 2018 and 2019.
Forbes Top Wealth Advisors in 2016, 2017, 2018 and 2019 as well as the Forbes Best-In-State Wealth advisors in 2018 and #1 for Best in State for Southern NJ, 2019.
In addition, Jim is a member of Raymond James Chairman's Council* (2008-2017) and holds the Series 7, 9, 10, 63 and 65 securities licenses.
Jim received a Bachelor of Science in business administration and economics from Montclair University and a Master of Business Administration from Fordham University. As a visiting lecturer of finance at Rider University, Jim presents a practical perspective on financial matters based on his years of experience. He currently resides in Vero Beach, FL and Newtown, PA with his wife, Meg.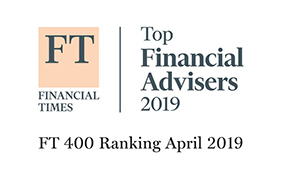 Investments & Wealth Institute™ (The Institute) is the owner of the certification marks "CIMA®," and "Certified Investment Management Analyst®." Use of CIMA®, and/or Certified Investment Management Analyst® signifies that the user has successfully completed The Institute's initial and ongoing credentialing requirements for investment management professionals.