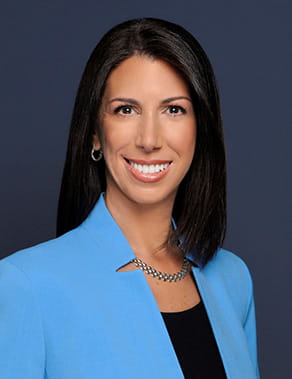 Laura
Steckler,
CFP®, CDFA®, CLTC®, CEP®
Senior Vice President, Investments
Managing Director, Investments
---
I believe in the power of having a financial blueprint for the future – and a trusted advisory team that can adjust it as life changes.
Laura Steckler
Driven by her passion for helping others, Laura uses her deep financial planning experience to help clients pursue their important life goals. Laura and her team pride themselves on offering an exceptionally high level of personalized service, building relationships for the long term.
Since 2006, she has had the privilege of leading the Steckler Wealth Management Group of Raymond James as Managing Director. Her efforts were recognized in 2020, 2021, 2022, by Forbes Best-in-State Wealth Advisors* and 2020, 2021 by Forbes Top Women Wealth Advisors**, the Forbes Best-in-State Women Advisor 2023*** as well as in 2018, 2019, 2020, and 2021 by Working Mother Top Wealth Advisors. ****
Laura was honored to be a recipient of the 2020 Women to Watch award by Investment News honoring female financial advisers and industry leaders. **** For the past nine years, she has also been a member of the Chairman's Council*****, the highest level of recognition at Raymond James. She has been a featured speaker at numerous conferences and panels and has been quoted in several financial publications.
Growing up in a single-parent home in Brooklyn, Laura learned firsthand the effects of divorce on a family's finances and the importance of a financial education. That hunger for knowledge propelled her to earn a bachelor's degree from Brooklyn College and a master's degree from New York University. She has also earned the CERTIFIED FINANCIAL PLANNER™, Certified Divorce Financial Analyst™, Certified Estate Planner™, and Certified in Long Term Care designations over the years. She applies all that she has learned for the benefit of clients, placing special emphasis on helping them successfully navigate life transitions, including divorce, widowhood and retirement.
Over the years, Laura has also developed a specialization in pension planning and analysis. She's helped corporate as well as city, state, county and federal employees evaluate their options and assist in developing and executing a retirement strategy that is tailored to each person and their objectives. She is also skilled at creating and managing tax advantaged wealth accumulation strategies for professionals in the private sector.
Giving back to the community is a priority for Laura, who has supported a groundbreaking financial literacy initiative in Miami Dade County Public Schools as well as Funding the Future, a nonprofit with the ambitious mission of teaching financial literacy to every student in America. She has also worked with indigent seniors and has served a variety of women's organizations. She is a staunch advocate for women in the financial services industry, having served on the prestigious Raymond James Women's Advisory Council.
A married mother of two children, Gavin and Addison, she enjoys spending quality time with her family, playing tennis, traveling, training for marathons and dancing. Learn a little more about Laura's Brooklyn upbringing and the perspective she brings to her clients
The Forbes ranking of America's Top Women Wealth Advisors, developed by SHOOK Research, is based on an algorithm of qualitative and quantitative data, rating thousands of wealth advisors with a minimum of seven years of experience and weighing factors like revenue trends, assets under management, compliance records, industry experience and best practices learned through telephone and in-person interviews. Portfolio performance is not a criteria due to varying client objectives and lack of audited data. Research Summary: (As of February 2021) 32,810 nominations were received, based on thresholds (9,785 women). 16,165 Advisors were invited to complete the online survey. 13,235 Advisors were interviewed by telephone. 2,595 Advisors were interviewed in-person at the Advisors' location. This ranking is based upon the period from 9/30/19-9/30/20 and was released on 3/24/21.
Neither Forbes nor SHOOK receive a fee in exchange for rankings. Raymond James is not affiliated with Forbes or Shook Research, LLC. This ranking is not indicative of an advisor's future performance, is not an endorsement, and may not be representative of individual clients' experience. T
The Forbes ranking of America's Top Women Wealth Advisors Best-In-State, developed by SHOOK Research, is based on an algorithm of qualitative and quantitative data, rating thousands of wealth advisors with a minimum of seven years of experience and weighing factors like revenue trends, assets under management, compliance records, industry experience and best practices learned through telephone and in-person interviews. Portfolio performance is not a criteria due to varying client objectives and lack of audited data. This ranking is based upon the period from 02/04/22 to 09/30/22 and was released on 02/01/2023. Research Summary (As of February 2023) 38,314 nominations were received and approximately 1,700 women won based on thresholds. This ranking is not indicative of an advisor's future performance, is not an endorsement, and may not be representative of individual clients' experience. Neither Raymond James nor any of its Financial Advisors or RIA firms pay a fee in exchange for this award/rating. Raymond James is not affiliated with Forbes or Shook Research, LLC. Please visit https://www.forbes.com/lists/best-in-state-women-advisors/ for more info.
The Forbes ranking of Best-In-State Wealth Advisors, developed by SHOOK Research, is based on an algorithm of qualitative criteria, mostly gained through telephone and in-person due diligence interviews, and quantitative data. Those advisors that are considered have a minimum of seven years of experience, and the algorithm weights factors like revenue trends, assets under management, compliance records, industry experience and those that encompass best practices in their practices and approach to working with clients. Portfolio performance is not a criteria due to varying client objectives and lack of audited data. Out of approximately 34,925 nominations, more than 6,550 advisors received the award. This ranking is based upon the period from 6/30/20 to 6/30/21 and was released on 4/7/22. This ranking is not indicative of an advisor's future performance, is not an endorsement, and may not be representative of individual clients' experience. Neither Raymond James nor any of its Financial Advisors or RIA firms pay a fee in exchange for this award/rating. Raymond James is not affiliated with Forbes or Shook Research, LLC. Please visit https://www.forbes.com/lists/best-in-state-wealth-advisors/for more info.
SHOOK™ Research considered women advisors with children living at home under 21 years of age. The ranking algorithm is based on qualitative measures derived from telephone, virtual, and in-person interviews and surveys: service models, investing process, client retention, industry experience, review of compliance records, firm nominations, etc. and quantitative criteria, such as assets under management and revenue generated for their firms. Time period upon which the rating is based is from 03/31/2020 to 03/31/2021 and was released on 10/12/2021. Investment performance is not a criterion because client objectives and risk tolerances vary, and advisors rarely have audited performance reports. Rankings are based on the opinions of SHOOK Research, LLC. Neither SHOOK nor Working Mother receives compensation from the advisors or their firms in exchange for placement on a ranking. Research Summary (as of 3/31/2021): from a total universe of 300,000 advisors, based on our thresholds we received 33,123 nominations, of which approximately 20% (6,624) were women and less than a quarter (1,400) at the time were mothers with children under the age of 21 and living at home. A final list of the top 500 advisors was then compiled based upon the quantitative criteria. Raymond James is not affiliated with Working Mother or Shook Research, LLC. This ranking is not indicative of an advisor's future performance, is not an endorsement, and may not be representative of individual clients' experience. Neither Raymond James nor any of its Financial Advisors or RIA firms pay a fee in exchange for this award/rating. For more information see www.shookresearch.com