You can apply the 1816 Wealth Management Investment Process to Your Situation
Here is how the 1816 Wealth Management Investment Planning Process can work for you:
Our process encompasses 4 areas: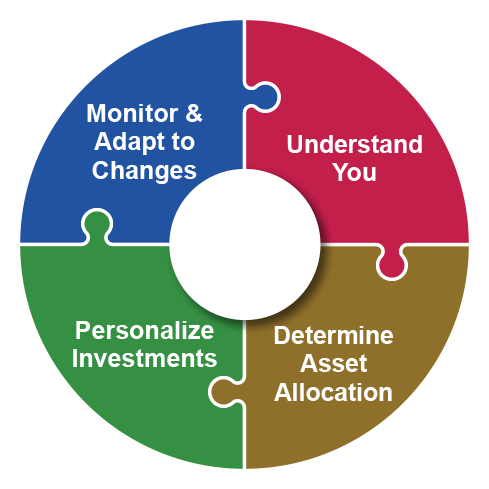 Understand You and Your Unique Situation – The process begins with you and your goals. Your financial plan helps to guide your investment strategy.
Explore asset classes that may be beneficial for you – We can draw from numerous asset classes designed to help you achieve your goals.
Personalize the investment selection for you - Through Raymond James we can choose from virtually an unlimited number of investment strategies. That's how we can select the tactics to suit your overall plan.
Adapt as your needs and the world around you evolve – Planning is not a static event. We update the plan and your investments as your situation changes or market conditions shift.
Your situation is not frozen. Nor is the world around you. That's why the Investment Planning Process is a continuous circle that adjusts to your needs and remains tailored to your situation.
Discover how our investment process can help you design your financial future by contacting us HERE