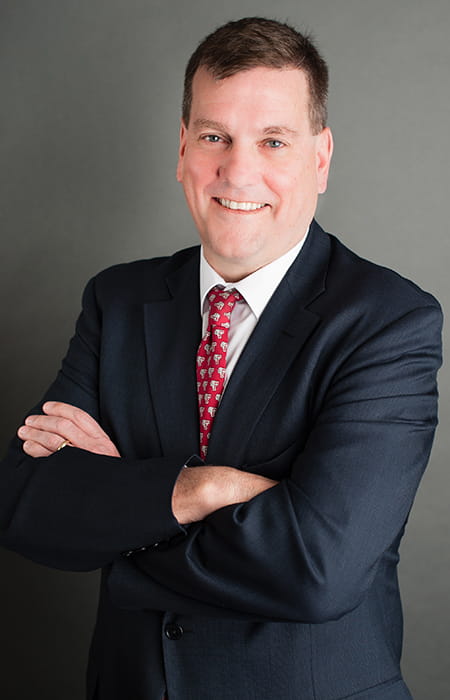 ---
When I came into the business in 1991, the office that I worked in was very much a retail wealth management oriented office. Retirement planning, specifically employer-based retirement planning, was not really a focus for anyone in the office. I worked hard to become the authority on 401(k), 403(b) and other qualified plans.
Throughout his long career, Kevin has been devoted to helping people prepare for the most significant milestone in life – retirement. He helps corporate plan sponsors and their retirement, investment and finance committees meet their fiduciary responsibilities; and strives to help their employees and beneficiaries make meaningful progress toward their financial goals.
He has more than 25 years of experience in the financial services industry, and is a Certified Investment Management Analyst and Accredited Investment Fiduciary Analyst. He has extensive knowledge in key areas such as corporate retirement plan design, implementation, operation and distributions.
Before joining Raymond James in 2015, Kevin worked at Merrill Lynch for 24 years. He earned a bachelor's degree from Fordham University. He is a member of the Investment Management Consultants Association, the Society for Human Resource Management, the National Association of Plan Advisors and The Retirement Advisor Council.
Throughout his career, Kevin has been committed to serving community organizations. He serves as chairman of the Board of Advisors for the Fordham University School of Professional and Continuing Studies. He has served as board member and treasurer of Meals on Wheels of Rockland, and trustee for St. Margaret of Antioch Church, and as a leader in the Boy Scouts of America.
In recognition of his efforts, he was named Meals on Wheels Business Man of the Year in 2015 and received the Fordham University Community Leadership Award in 2016.
Kevin has also won several prominent industry accolades, including the Financial Times 401: Top U.S. Retirement Advisors1, PLANSPONSOR Advisor Top 100 List and Advisor of the Year finalist2, and 401kWire 300 Most Influential Advisor in Defined Contribution3.
Kevin lives in his hometown of Pearl River, New York, with his wife, Jane.
Why Work With A CIMA®

Certified Investment Management Analysts® (CIMA®) are dedicated to elevating their practice through education, experience, examination and the highest standards of ethics. CIMA® professionals have the advanced investment management knowledge necessary to truly – fully – serve affluent clients, and they use that in-depth knowledge to analyze and hand-select the investment products that make the most sense for your circumstances.

Earning a CIMA® designation requires three years of broad experience in investment management consulting and completion of the demanding educational program put forth by the CIMA® board. To maintain this designation, CIMA® professionals are required to adhere to a rigorous code of professional responsibility and complete 40 hours of continuing education every two years.

But what does this designation mean for you? It means that when you work with an investment consultant who has taken the time to become CIMA® certified, you're working with someone who understands the financial complexities and risks that come with being in the highest tax bracket, is well-versed in modern concepts of investment advice, and, perhaps most important, is educated enough to understand how your individual investments are being managed and how they work together – no matter how complex it may be. These skills, along with a commitment to advanced education, enable them to provide you with the kind of service that you not only want, but deserve.
1 The Financial Times FT 401 Top Retirement Advisers award had 401 of the 550 advisor applicants being recognized as a Top Retirement Adviser. The FT asked large U.S. brokerages, independent advisors, and other wealth managers to identify qualified Direct Contribution (DC) plan advisor applicants. They partnered in research with Broadridge Financial Solutions who provided data from its proprietary databases that helped identify advisors who specialize in serving DC plans, including 401k, pensions and other DC accounts. Advisor applicants must have 20% or more of their total client assets in DC plans. Qualifying advisors filled out an online application and questionnaire that gave the FT more information about their practices. The FT augmented that information with their own research on the candidates, including data from regulatory filings. The FT generated an internal score for each applicant based on seven broad factors: DC plan assets under management, DC plan AUM growth rate, DC plan growth rate, experience advising DC plans, the advisor's industry certifications (CFP, etc.), compliance record, degree to which advisor specializes in the DC business, and estimated participation rate at client DC plans. Roughly 80 to 85 percent of the final score is based on DC plan AUM and growth in the DC plan business (measured by plan numbers and plan assets). Additionally, to provide a diversity of advisors, the FT places a cap on the number of advisors from any one state that's roughly correlated to the distribution of millionaires across the U.S. Neither the firms nor their employees pay a fee to The Financial Times in exchange for inclusion in the FT 401 list. Inclusion on the FT 401 Top Retirement Adviser list is no guarantee as to future investment success. The award is not representative of any one client's experience, and is not an endorsement, and is not indicative of advisor's future performance.. Raymond James is not affiliated with the Financial Times.
2 Finalists have demonstrated leadership and a commitment to excellence for their retirement plan sponsor clients and participants.
3 Based on nominations from the industry and our editorial staff, and on an analysis of objective criteria including the statistics about the nominees' practices.