Pride Perspectives
Harnessing the power of perspectives
Pride Perspectives – the biannual newsletter of the Pride Financial Advisors Network – was created to share the experiences and celebrate the victories of the LGBT+ community. Featuring everything from powerful stories of LGBT+ members, allies and advocates to exciting diversity and inclusion events and advice to amplify advisors' success, Pride Perspectives is one more way Raymond James is creating the world we wish to see.
Latest Issue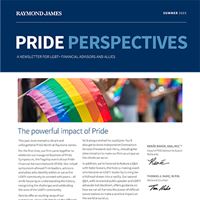 The powerful impact of Pride
Filled with scenes and stories from Pride Month and the inaugural Business of Pride Symposium, this issue features a Q&A with Katie Sowers, the Super Bowl's first openly LGBT+ and first woman coach; Ash Beckham, a tireless LGBT+ advocate and prolific public speaker whose TEDx Talks have amassed millions of views; and Tom Hake's life-changing path to founding PFAN.
View latest issue
Past issues
Spring 2021
This debut issue details the inception and ongoing mission of the Pride Financial Advisors Network. You'll also get to know financial advisor Lynne Wright, an award-winning advocate for diversity and inclusion, and explore business growth opportunities.