Students & Early Careers
Where will you grow from here?
Raymond James is a launchpad for careers throughout the financial services industry – from advising services and banking to marketing and human resources – helping young professionals of all backgrounds grow within roles they love. By starting your journey with us, you'll instantly gain access to a support structure and community made up of dedicated and passionate associates who can help you accelerate your career, while you define and pursue success on your own terms.
Your possibilities
Whether you've always pictured yourself in finance or are just beginning to consider it, there's a place for you at Raymond James. Here, you'll find a workplace culture as unique as your aspirations, and opportunities in fields like finance, technology, capital markets, human resources and so much more.
Raymond James fosters a culture of exploration, creativity, and personal growth. Throughout the course of my internship, I had the pleasure of working alongside incredibly talented professionals who were not only highly skilled within their respective fields, but also genuinely passionate about what they do and the reason behind it. Every day I was consistently encouraged to think outside the box and contribute unique ideas that made me feel empowered and motivated. My time at Raymond James has solidified my passion for the financial services industry and given me the confidence to pursue my professional dreams.
My internship experience was nothing short of phenomenal. From training in St. Pete to my 10 weeks in the NYC office, I felt like a valued member of a larger family rather than a simple cog in a wheel. My contributions were highly valued by my team and management when completing important projects. I was shocked I had the opportunity to work on my own initiation of coverage on an UK O&G major by building a comprehensive model, writing the note and developing a high-level thesis to support my team's efforts.
My internship with Raymond James taught me so much, not only specifically within my role, but also about the culture that we see every day when coming in to work. Getting to intern at Raymond James is an incredible experience because the associates here want to see you succeed. They want to help and guide you through the trials and tribulations of beginning your career. There are so many resources available to the interns and it showed me what characteristics and aspects of corporate culture I will continue to search for in my career.
My investment banking summer internship at Raymond James equipped me with invaluable skills, introduced me to an extensive network of knowledgeable colleagues, and exposed me to the facets of finance. This experience has provided a foundation for me to excel in my future professional endeavors. I am grateful to the RJ community for this opportunity.
As a wealth management intern with Raymond James, I had the opportunity to work closely with a dynamic team of professionals, contributing to several equity research projects. This internship has not only enhanced my technical skills, but also cultivated a strong network of industry connections, setting a solid foundation for my future career in finance.
My internship experience was amazing, it exceeded my expectations. You typically hear how the corporate environment is brutal and intense but at Raymond James I felt comfortable and was embraced by everyone. This experienced showed me the type of culture you want to look for within a company and it taught me how to strategically expand my professional network.
As a summer intern with Raymond James in the Real Estate Investment Banking division, I was amazed by the warm and supportive nature of the people on my team. Their willingness to guide and assist me throughout the internship was invaluable in accelerating my understanding of complex real estate transactions and financial analyses. The experience not only enriched my technical knowledge but also reinforced the importance of teamwork and mentorship, which I will carry with me throughout my professional journey.
My summer internship with the compliance team at Raymond James was an incredibly rewarding experience, both personally and professionally. I'm grateful for the warmth and kindness from all my managers, as well as their continuous guidance and mentorship throughout the program. Collaborating with them on meaningful projects with tangible outcomes has undoubtedly deepened my understanding of not only compliance, but of the intricacies of the financial services industry as a whole.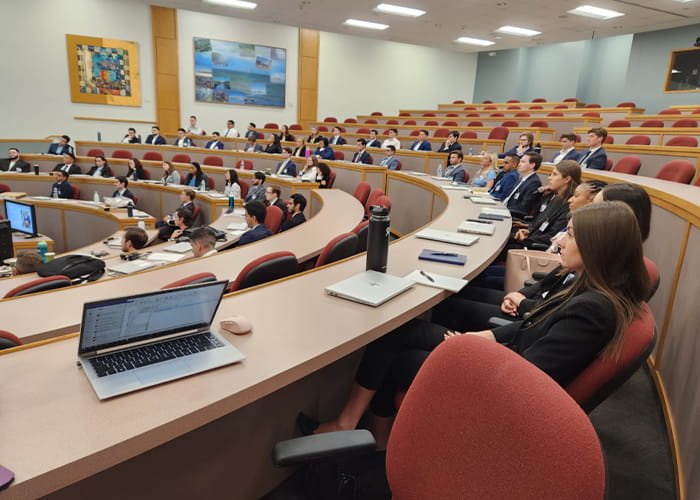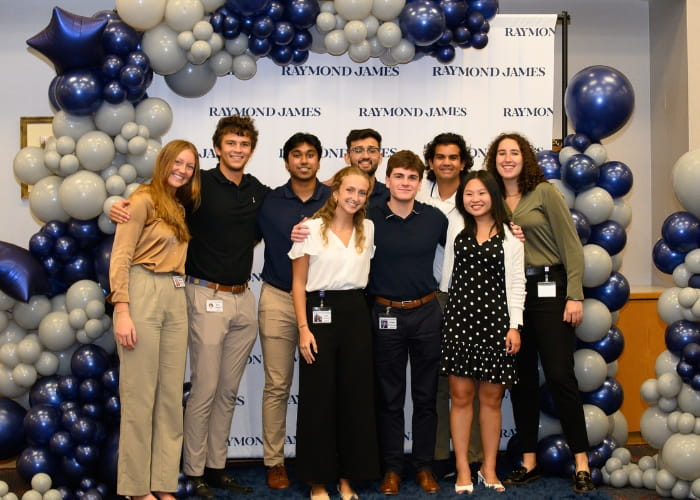 Putting people first is our commitment to clients – and to colleagues
Giving back
Investing our time and resources back into the communities that have given us so much is a tradition as old as the firm.
Giving back

about Giving back
---
Gain insight on what it's like to work here.
Career advice, industry insights and a peek inside the culture of Raymond James. Check out All Access – our careers blog.
All Access blog