Internships
The first chapter of your professional future
Students interested in the financial services industry have a chance to gain valuable professional experience and be part of a storied culture when they participate in the Raymond James Summer Internship Program. As an intern, you'll be an integral member of a team in one of our many departments as you work on key projects designed to prepare you for a career at our firm. Our summer experience is designed to show you what your first year as a full-time hire would look like.
Our summer program brings together hundreds of students from around the country and offers a robust curriculum of professional development and networking events to show you what life at Raymond James is all about, from sessions with executive speakers to networking and community impact events. Best of all, you'll have a chance to develop a community and work with a peer coach who can help to answer questions and guide your experience. Interested candidates are encouraged to apply early since we consider applications on a rolling basis.
Apply today to get one step closer to gaining invaluable experience and growing your career with Raymond James.
Internship tracks
Finance
• Asset Management Services
• Global Wealth Solutions
• Investment Advisors Division
• RJFS Consultant
• Succession Planning
Capital Markets
Information Technology
• Application development
• Project management
• Infrastructure security
• Data science
• Business analysis
Accounting
• Accounting Systems and Projects
• Accounts Payable
• Financial Reporting
• Internal Audit
Marketing
• Account services
• Communications
• Data insights
• Marketing strategy
Raymond James Bank
• Corporate Banking
• Credit Analyst
• Raymond James Trust
• RJ Project Manager
Risk Management
• Compliance
• Supervision
• Audit
• Anti-money laundering
• Operational risk management
Operations
• ODET – Operations, documentation and education team
• Cost basis reporting
• Customer accounts
• Mutual fund trading
• Mutual fund security setup
• Service delivery
• Custody
• Domestic clearance
• Corporate actions
• Retirement plan services
• Raymond James investment management operations
Raymond James Investment Management
• Operations
• Data insights
• Technology and application development
• Technology support
• Marketing data insights
Human Resources
• Talent acquisition
• Talent development
• Compensation and benefits
Financial Advisor Branches
• Client Database Tracking
• Digital Marketing
• Client Event Planning and Execution
• Client Service
• Wealth Management
• Branch Services
Featured participants
Camilo Rincon
Corporate Banking Credit Analyst
Credit Risk
"My favorite experience of the Internship Development Program was being able to participate in the loan review process as this gave me an insight into what I could possibly be doing as a full-time analyst."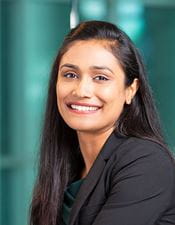 Trishna Ravi
Associate Developer, Technology
Surveillance
"People here are always happy to help and I couldn't ask for anything more. I met quite a few people who are great mentors and continue to help me grow, not just technically, but to be a well-rounded individual and become the best at what I do."
Internship program perks
Intern events and activities
Interns have several opportunities to develop their professional and leadership skills, such as a full cohort induction week and ongoing training and development courses, like virtual teaming, maximizing your work style, and advanced technical skills. Sharpen your personal and professional skills, including presentation, marketing and networking skills, with targeted workshops and on-the-job training with some of the best in the profession.

As an intern, you'll have unique access to leaders – both firmwide and within your chosen department. Take advantage of an open-door policy to build your network and engage with established professionals at Raymond James. Our Executive Fireside Chat series with C-suite leaders and opportunities to shadow associates offer rare views into the workings of the firm.

Raymond James is more than a financial services firm or an employer – we are a community. As a cohort, our interns enjoy an array of opportunities to connect with one another and get to know Tampa Bay with engaging events such as intern circle events, community service days, office Olympics and the intern day at a Tampa Bay Rays baseball game.

Our internship program is designed to prepare you for a future career with Raymond James, and throughout the summer, you'll receive the experience and exposure to take the next step in making that a reality. High performing interns are considered for full-time opportunities, and we celebrate your success before you wrap up your summer experience. It's no surprise that a majority of our interns who receive full-time offers choose to return to Raymond James after graduation.
To stay in touch and get more information about any of these programs,
register with our Student Talent Community and we will send you details about application timelines and other upcoming events.
All Access Blog
Campus Recruiting
Intern spotlight – marketing
Marketing supports the firm's advertising, communications and marketing strategy. It has its own in-house agency composed of account managers and creative services professionals.
Continue Reading

about Intern spotlight – marketing
Campus Recruiting
Intern spotlight – information technology
Information Technology supports the firm through a variety of strategic solutions that offer greater business efficiency, ensure data security and privacy, and support new business opportunities.
Continue Reading

about Intern spotlight – information technology
---