Mid-Atlantic Public Finance
Public Finance Market Watch
In-depth and timely commentary and analysis on the municipal market from industry experts.
View All
Extensive experience. Steadfast commitment.
The Mid-Atlantic Public Finance group is a hands-on banking team with a proven record of providing reliable results for municipal entities throughout Virginia, Maryland, West Virginia, North Carolina and the District of Columbia. Our goal is simple: Provide clients with high-quality financial services while carefully monitoring market conditions and opportunities.
The Mid-Atlantic team has extensive finance experience in state and local governments, higher education, transportation and infrastructure, housing, airports, charter schools, and unclaimed securities liquidation. Additionally, our group is backed by the robust resources of Raymond James, a firm whose presence in the Mid-Atlantic area includes 787 registered representatives in 305 branch locations, managing over $79.9 billion in assets in 282,895 retail accounts. Raymond James consistently ranks in the top 10 nationally for senior managing underwriting.*
*Source: Bloomberg, based on total par amount (2015 – 2020).
Stats as of December 31, 2020. Past performance may not be indicative of future results.
Full-service Capabilities
Underwriting

Underwriting
General Obligation
Limited Tax Obligations
Water & Sewer/Utilities
Certificates of Participation
Higher Education
Tax Increment Financing (TIF)
Airports
Housing
Healthcare
Master Lease Program Financing
Charter Schools
Private Placements
USDA Financing
Rating Agency Strategy
Economic Development Projects
Debt Portfolio Analysis
Pension Bond Financing Options
Investment of Proceeds
Financial Advisory
Derivatives Advisory
Unclaimed Property Security Liquidation
Team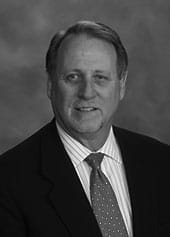 Ronald L. Tillett
Managing Director, Head of Mid-Atlantic Public Finance
Richmond, VA
Read Bio