Longevity Planning Resources
As we all live longer lives, there's an awful lot to consider about your retirement years – from choosing the right Medicare plan to the possibility of a healthcare episode to finding a ride to the grocery store. Raymond James has partnered with several services to help make these challenges easier for you and your loved ones. Click below to learn more about the services offered through Raymond James advisors.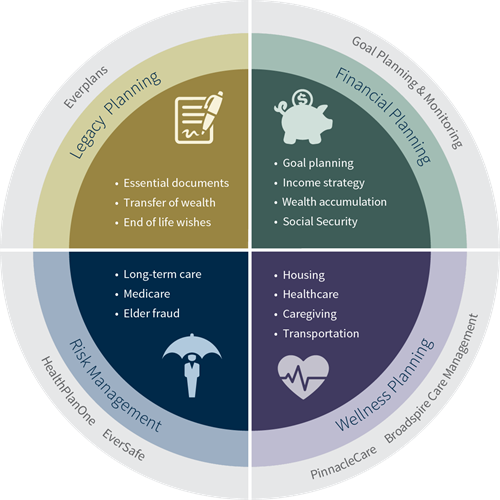 Legacy Planning
Essential documents
Transfer of Wealth
End of life wishes
Everplans
Everplans enables you to store important information – from a will to a favorite family recipe – and end-of-life wishes in a secure online database, which can be shared with trusted family and friends. Everplans guides you through the step-by-step process, helping ensure your family has a full understanding of your life and wishes.
Financial Planning
Goal planning
Income strategy
Wealth accumulation
Social Security
Goal Planning & Monitoring
This sophisticated software program shows your full financial picture. It takes into account your specific goals, investment strategy, risk tolerance, spending and saving rates – and tells you the probability of achieving your goals*.
Risk Management
Long-term care
Medicare
Elder fraud
EverSafe
EverSafe seeks to protect you from financial fraud by using a proprietary algorithm to monitor your accounts for unusual activity. Alerts are sent to you and those designated as trusted contacts.
HealthPlanOne
HealthPlanOne helps you navigate the complexities of Medicare by comparing options and finding the most cost-effective plan for you, while assuring appropriate coverage for your preferred providers, doctors and medications.
Wellness Planning
Housing
Healthcare
Caregiving
Transportation
PinnacleCare
A concierge health service, PinnacleCare helps you manage a healthcare episode. PinnacleCare maintains relationships with top-ranked medical centers across the country and works with you to find the best treatment, schedule appointments, coordinate seeking a second opinion – even ensure an accurate diagnosis.
Broadspire Care Management
Broadspire helps you plan for the largest financial factors in retirement: housing and healthcare. Broadspire will assess, recommend and facilitate strategies for staying in your home as you age and other care needs associated with aging, from minor home modifications to finding the best memory care facility.
Raymond James is not affiliated with PinnacleCare, Broadspire Care Management, Eversafe, HealthPlanOne, or Everplans. Content provided and maintained by any third-party website is not owned or controlled by Raymond James. There is no form of alegal partnership, agency, affiliation, or similar relationship between Everplans and Raymond James, or their affiliates or agents, nor is such a relationship created or implied by the information herein. An introduction to Everplans by Raymond James does not constitute an endorsement, recommendation, or opinion as to the appropriateness of any relationship between Raymond James or any financial advisors and Everplans, or their affiliates or agents, or any advertising, marketing, social media use, or communications as a result of an introduction to Everplans by a Raymond James financial advisor.
Investment products are: not deposits, not FDIC/NCUA insured, not insured by any government agency, not bank guaranteed, subject to risk and may lose value. © 2017 Raymond James & Associates, Inc., member New York Stock Exchange/SIPC. © 2017 Raymond James Financial Services, Inc., member FINRA/SIPC.