Our Process
Fine-tune your investment program
Our team can help you effectively identify, analyze and address the critical issues that are vital to the success of your investment program.  Drawing on decades of experience, we will partner with you to support your objectives and those of your institution – such as optimizing branch coverage, servicing referrals, or generating more fee income through advisory business. Our approach, combined with the products, resources and support of a full-service brokerage provider, enables our partners to compete head-on with wirehouses and other investment providers.
Steps to Success
From peer analytics to reporting, our methodical approach to assisting financial institutions in achieving their goals is proven, collaborative and wins positive results.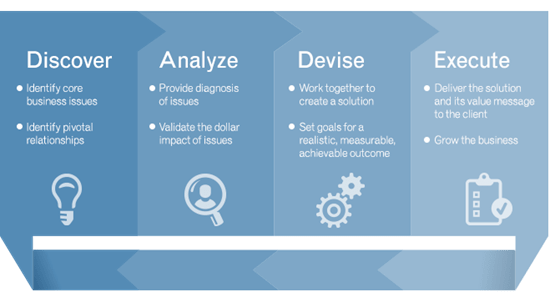 Peer Analytics
See how your operation measures up.
This internal reporting tool compares your institution to other Raymond James affiliated institutions of similar size. It provides statistical data through a variety of charts and graphs showing, but not limited to, asset size, revenue, staffing metrics and return on assets. We assist you in interpreting the data, analyzing it and then developing a plan to take advantage of your key areas of opportunity.
Reporting
An overview of your business.
A variety of reports are available to support your institution's investment program. The most widely utilized report is the Focus Report that provides an overview of your investment program's data including asset and revenue metrics in various dashboard formats. You can generate predefined reports of frequently accessed information, or create custom reports based on the information you need.
There are many reports available. The various categories of reports are listed below:
Business Reports
- Assets Reports
- Product Ratings Reports
- Standings Reports
- Production Reports
Client Reports
- Accounts Reports
- Activity Reports
- Client Segmentation Reports
- Holdings Reports
Advisor Recruiting
Recruit and retain the best.
Experienced investment professionals know the importance of being affiliated with a top-tier securities firm. They will be looking for a well-regarded firm with a robust product line and sophisticated support.
Clearly, top talent makes a critical different in the success of your program. We can make it easier to identify, attract and retain top advisors, who will know that Raymond James is a recognized and respected name in the securities business. High-caliber advisors will also appreciate having access to our full range of products as well as our experienced support staff, self-clearing capabilities, sophisticated technology, research, comprehensive marketing and personalized sales management.
Request Information
Now that you've become familiar with how a partnership with our Financial Institutions Division can benefit your business, we invite you to have a confidential conversation with our team about what your investment program would look like at Raymond James. Complete the form below or contact us directly at 866.909.5325.