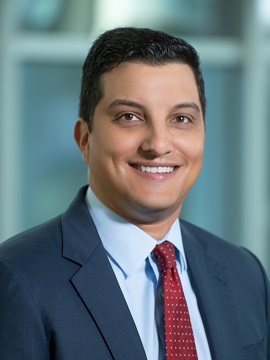 Paul Shoukry
Chief Financial Officer
Paul Shoukry is chief financial officer of Raymond James Financial, Inc. (NYSE: RJF). He is responsible for the overall financial management of the company, including balance sheet management, financial reporting, investor relations, corporate development, corporate tax, cash management, regulatory reporting and financial planning and analysis. Mr. Shoukry also oversees the company's ESG strategy, initiatives and reporting. He is a member of the firm's Executive Committee and serves on the boards of subsidiaries Raymond James & Associates and TriState Capital Bank.
Mr. Shoukry joined Raymond James in 2010 to participate in the firm's Assistant to the Chairman program. He earned an MBA with honors from Columbia University. Before business school, Mr. Shoukry worked for a strategy consulting firm that focused on serving clients in the financial services industry. He started his career as a commercial banker after graduating magna cum laude with a Bachelor and Master of Accounting from The University of Georgia. Mr. Shoukry also completed the Strategic CFO Program at The Wharton School. He is a Certified Public Accountant (CPA), a Certified Treasury Professional, and a Series 7 and 27 holder. Mr. Shoukry was named to Fortune's "40 under 40 in Finance."
Mr. Shoukry enjoys golfing and spending time with his wife and three children. He is passionate about childhood education and serves on the board of trustees for Academy Prep Center of Tampa. Paul also serves on the advisory board for Florida Institute of CFOs, the executive cabinet for the American Heart Association's Heart Ball, and he is the executive sponsor for the firm's multicultural network.