BFAN Connection
Cultivating connections through conversations
Born out of our firmwide commitment to championing Black professionals across the financial world, BFAN Connection is a biannual newsletter designed to educate, inspire and unify members of our Black Financial Advisors Network. Each edition includes thought-provoking stories from industry leaders, best practices to help advisors grow their businesses, upcoming events, timely insights and more.
Latest Issue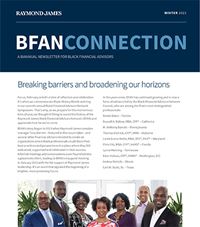 Breaking barriers and broadening our horizons
This issue explores BFAN's evolution from a humble initiative into a dynamic movement rooted in progress and advocacy. Exemplifying this theme is BFAN co-founder Tony Barrett, who shared his journey to success and what inspired him to pave the way for others like him. You'll also learn how Raymond James is supporting the advancement of Black communities through its $1.5 million pledge, helping make an indelible impact on countless lives.
View latest issue
Past Issues
Summer 2021
Kicking off with our first fully virtual BFAN Symposium, this edition features a Q&A with Steve Pryor – a 30-year veteran of the financial world who's helping shape the industry through his actions.
Fall 2020
Get an inside look at the $1.5 million pledge firm leaders made to the Black community in 2020. You'll also learn the story of BFAN Advisory Council member Chris Fils, who has spent his career turning obstacles into opportunities.
Spring 2020
Presenting the Advisor Inclusion Networks and an overview of the 2020 BFAN Symposium, this issue features financial trailblazer Carl W. Scott – one of the firm's longest-tenured Black advisors – who started his one-man practice in 1997.
Summer 2019
In this issue, you'll get to know Renée Baker and get a recap of the 2019 BFAN Symposium and 2019 Elevate BFAN Luncheon. You'll also hear one member's journey to BFAN and explore the power of effective marketing.
Fall 2018
Highlighting the 2018 BFAN Symposium and our INROADS networking reception, this inaugural issue dives into diversity initiatives across the firm and shares how one BFAN member is making a meaningful difference.