Aspire Magazine
Aspire to greater
Aspire Magazine is dedicated to empowering and inspiring women in the financial advising industry. By celebrating their achievements and recognizing their contributions, we hope to showcase the indispensable role women have in the world of finance.
Latest Issue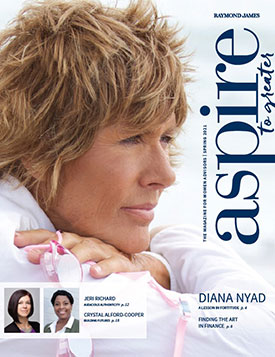 Resilience
Diana Nyad is the only person to successfully swim from Cuba to the Florida Keys – but she didn't make it on her first attempt. Or the second. Or the third. This issue of Aspire features stories of successful women advisors who, like Diana, stayed true to their visions in achieving their dreams. And they encourage others to do the same.
View latest issue
Past issues
Fall 2020 Issue
Filled with stories of powerful women and their achieved ambitions, they talk about the critical decisions that contributed to their successes and nourished their entrepreneurial spirits. Now they're empowering others to do the same.
Spring 2020 Issue
In this special edition spring issue, gain perspective from powerhouse Arianna Huffington and welcome a new leader, Renée Baker, to the Women Financial Advisors Network as it celebrates 25 years of inspiring women.
Summer 2019 Issue
In the summer issue, you'll hear how Chloe McKenzie's nonprofit, BlackFem, is assisting women of color.
Spring 2019 Issue
In our spring issue, Anne Gates, Susan Story and Shelley Broader discuss the power possibility that comes with serving on a board of directors.
Summer 2018 Issue
Cover star Jocelyn Wright talks about leading the charge for a more inclusive financial services industry, an Xennial advisor offers cross-generational perspective and more.
Spring 2018 Issue
Pippa Malmgren takes a unique view on our economic future and offers up her "imagination starter kit," and we interview Eleanor Blayney, the CFP Board's special advisor on gender diversity.
Summer 2017 Issue
In our inaugural run, Elevate Network founder and former head of Merrill Lynch Wealth Management Sallie Krawcheck talks redefining Wall Street for women.