Q&A with Leslie Shults, National Chair, Encore Inclusion Network
In March 2022, Encore officially become the firm's newest inclusion network, and leading the charge was Leslie Shults, VP, Compliance Risk Identification. Read on to learn about Leslie's motivation for creating Encore, what's in store in the coming year, and Encore's many resources and events.
About Leslie
Leslie receiving recognition as founding member of Encore at the Encore luncheon and celebration in July 2022.
Leslie Shults leads the Compliance Risk Identification team and oversees the regulatory change management, emerging compliance risk and metrics & reporting programs. She is a founding member and National Chair of Encore, an inclusion network dedicated to helping associates of all ages – particularly those in the latter stages of their careers – thrive in the workplace while preparing for what comes next. In June 2022, she celebrated her 5th anniversary with the firm. Before joining Raymond James, Leslie held roles in operational risk for global Compliance at JP Morgan Chase and overseeing correspondent operations at Citi.
Leslie grew up in St. Louis, Missouri and received her Bachelor of Science in Accounting from the University of Missouri. She and her husband moved to Tampa Bay in 1997. They have two daughters, four grandchildren, and a cocker spaniel. In her spare time, Leslie enjoys boating and traveling.
What inspired you to create Encore?
Two years ago, my father became ill and passed away quite suddenly – within two to three months. He'd always been the caregiver for my mother, who has several illnesses, so I found myself grieving the loss of my father while also assuming a new role as caregiver to my mother. On that journey, I realized how much I didn't know: I didn't know about social security, trusts, wills, Medicare, you name it! I didn't know how to balance caring for my mother while working full time. All these things come at you without any preparation or training.
I started talking with other associates at Raymond James and found that there were a lot of us struggling with similar circumstances. We were all looking for the same information and needed help and support during a very stressful period of our lives. I found myself wondering why more companies don't help their older employees navigate these types of challenges. Most companies provide a lot of support to younger employees, but in my experience, the more you mature, the less support is available. I believe there should be support for all associates navigating things like putting their kids through college, planning for retirement, or taking care of aging parents, all of which may converge at the same time for some people.
How did Encore become a firmwide inclusion network?
I'm a member of the Compliance Diversity, Equity and Inclusion (DEI) Committee, where we are challenged to think of new and different ways to engage associates and ensure that everyone's voices are heard and supported. I pitched the Encore inclusion network idea to the firm's corporate DEI team. The idea wasn't initially met with "What a great idea!" – it was more of a "Prove it to me!" that this would be beneficial to associates. I like a good challenge, so we did! We built an initial group composed of Compliance, Internal Audit and Supervision associates, created events, and gathered data. We found that people were starving for the information we were giving them. We took this input and data to the Compliance DEI Committee, the Diversity and Inclusion team in Human Resources (HR), the firm's Operating Committee, and finally the Executive Committee. It was a big effort that paid off in March 2022 when we became an official firmwide inclusion network. It's been incredibly gratifying to see something that started as a personal need develop into something so valuable to so many.
Who can benefit from Encore?
When I pitched Encore to the Operating and Executive committees, I introduced myself by saying, "Here's what you don't know about me: I'm a mother, a grandmother, a wife, a caregiver, a boomer…and these identities are who I really am." I view Encore as a network that empowers associates to show up as who they really are (beyond their professional titles), and a resource to help them succeed at both life and work.
I expected Encore to attract mostly associates in my age group. I hadn't anticipated the number of associates in their 20s and 30s who joined because they were thrown into caregiving. Encore's three areas of focus are Health & Wellness, Professional Longevity, and Financial Well-Being, and within each of those areas, there is valuable information for associates at every age and stage in life.
Encore hosts monthly Caregivers Coffee Circles for associates. Can you tell me about those?
I wanted to provide a safe place for associates to have informal conversations about the challenges they are facing as caregivers and offer each other support, advice, and resources. The circles are held over Zoom on the third Friday of each month. We usually start by going over some rules, such as "what is discussed in the circle, stays in the circle." I usually pick a topic to initiate conversation. For instance, this month I'm going to share about needing to get the car keys out of my mother-in-law's hands because it's no longer safe for her to drive. Some participants may share similar experiences and advice, and some may just listen. The Coffee Circles started with about 20 people, and have grown to 30–35 participants on average. Associates join from all locations, and a lot of relationships have formed out of the circles. Your friends may not be able to relate to your experience as a caregiver; the Caregivers Coffee Circles connect you with associates who can.
Encore has a "Reverse Mentoring" program coming next year. What is reverse mentoring?
As people are staying in the workplace longer, it's important that they continue to adapt and develop skills. Most companies have mentorship programs in which senior leaders mentor more junior associates to help them acclimate to the workplace and develop their careers. We're planning a reverse mentoring program, most likely to come in 2024, in which our younger associates mentor our senior associates in areas such as technology, trends, and cultural understanding, all of which inform how we communicate. Reverse mentoring could be younger associates leading a workshop on TikTok, or sharing tips for using SharePoint and Microsoft Teams, for example.
There are five generations represented in the workplace today – and that phenomenon is not going away, so we must embrace our differences and see them as opportunities for learning. I'm excited to see this program take shape and think it will be both beneficial and fun.
What's next for Encore?
We are developing new events, including one called "Thriving in the Multi-Generational Workplace," during which we'll interview associates from each generation about the social, economic, and political events that have shaped who they are and how they communicate. This will be a three-part series that will increase our understanding of one another and improve how we collaborate. The goal is to debunk stereotypes such as those about "millennials" or "boomers" that may seem innocuous but are in fact a form of age discrimination.
We're also working in partnership with Raymond James Retirement Support Group to educate associates on how to plan for retirement. People really want to learn about retirement planning, so we're shining a light on this service offered through HR. I've partnered a lot with HR, and for every challenge that is brought up in Encore, I try to highlight a resource available through HR that can help to navigate it.
Learn more about diversity and inclusion at Raymond James.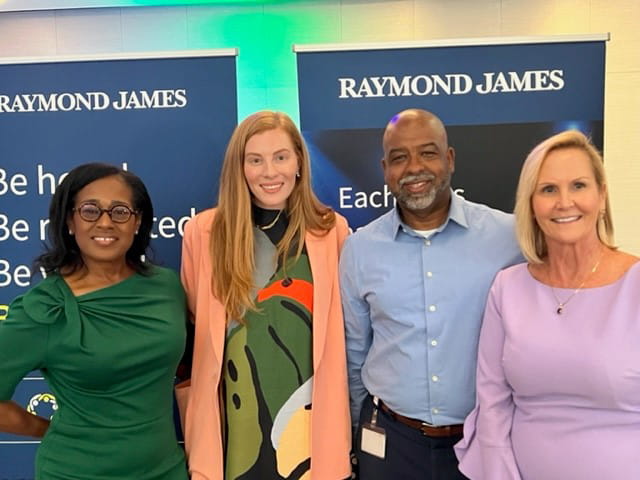 Celebrating Encore's launch:
(L to R): TJ Haynes-Morgan, Chief Audit Executive and Encore Executive Sponsor; Ferriss Roberts, Sr. Advisor, Diversity, Equity & Inclusion; Pedro Suriel, SVP, Diversity, Equity & Inclusion, and Leslie.