Investor Access Updates
Investor Access is now Client Access
As part of our ongoing efforts to improve your online experience, the look, feel and functionality of Investor Access has been updated. The website is now responsive, meaning it will look great and work well on any device, whether that be a PC, Mac, laptop, tablet or mobile device. View Client Access FAQs here or read on to learn more about navigating the new site.
Click here for an interactive demo
Your new summary page
New
Old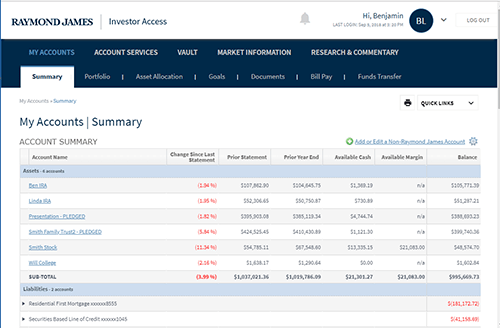 Balances for total assets and liabilities (if applicable) are located at the top of the page
You may notice increased emphasis on individual account balances

Additional account information is accessible by clicking the expand/collapse arrow
This is where you'll find Prior Statement, Prior Year-End, Available Cash, and Available Margin (if applicable) balances

You can customize how you view your accounts by creating and/or managing account groupings in site preferences
A Value Over Time graph and Asset Growth chart are now available

There is a new tab called Analysis where you can view your asset allocation and the Value Over Time and Asset Growth reports in greater detail
Your new portfolio page
New
Old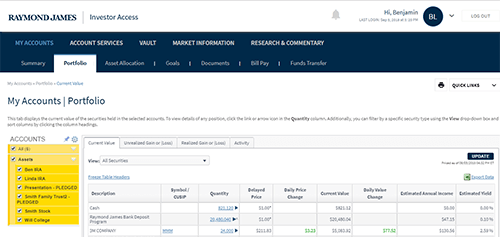 The account selector list is located in a dropdown menu at the top of the page

You can still choose to view your holdings for all of your accounts, a single account or any combination of accounts and groups

Unrealized gains and losses are viewable on the Current Value tab
The new group feature allows you to view holdings by type or by account, for example:

You can aggregate all of your holdings together or break them out by individual accounts
You can view all of your holdings and break them out by type or view individual holding types

Balances and other summary level information are available above the holdings detail
You can click the arrow to the left of the quantity to view more detailed information, such as:

Tax lots
Dividend payments
Market information
Recent news articles and/or Raymond James research (when applicable)
Your new consolidated Market Information and Research & Commentary tab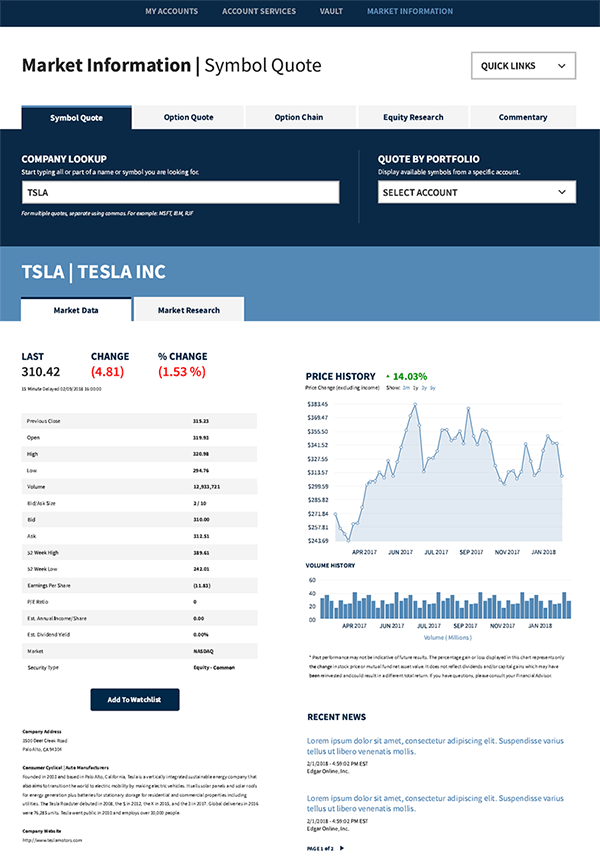 Rendering only; not actual screenshot.
Look for the Market Research tab to appear when viewing a company covered by Raymond James Equity Research