Acceptance and progress
Amy Smart is committed to driving change.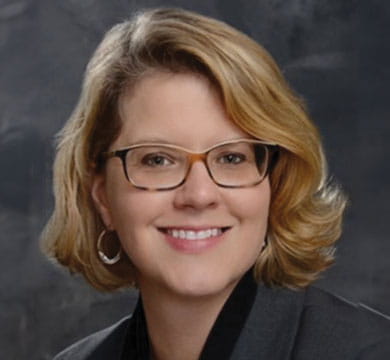 Put yourself in her shoes: You join your brother-in-law's growing financial advisory practice. He starts introducing you to all his clients. One, who knows the family, asks which brother you're married to – except you're not married to a brother, you're married to a sister. And when your brother-in-law says such, the client's face turns bright red.
That, precisely, was Amy's experience. One of her first introductions to a client, in fact.
"I'm feeling bad for my brother-in-law at this point," Amy said. "Because this is a large client. He's doing everything he's been told to do. 'Add diversity to the team. Hire a woman.' But was this going to cost him his client? I wasn't hurt or upset for myself. I was sad and scared for him. I wondered what this meant for us moving forward. Was he going to take the risk again and put me in front of another client?"
Her brother-in-law's response: "The business isn't worth having if they can't accept you."
But this wasn't a one-time experience for Amy. She's grappled with whether she should bring her spouse to a work event or correct a client when they apologize for keeping her from getting home to have dinner with her husband.
But Amy's not standing back and hoping for a change in the world, in acceptance. She's empowering the LGBTQ+ community to firmly and unapologetically take their place in financial services.
Inspiring change
"It's a business where our communities are changing," said Amy, a member of the Pride Financial Advisors Network's leadership council. "The people we serve are changing. The money is starting to transition to a more diverse community. It's not quite transitioned yet … 2030 or 2035 should be the peak of it.
"You'll have people inheriting wealth who might come from a family with multiple divorces or interracial marriages, people that come from different backgrounds, ethnicities, or maybe they were married to a man and now they're with a woman."
Amy makes the point that the advisors who understand the needs of these clients will be most attractive to this generation. She affirms that advisors must open their minds to people and families who may look different than clients they've served in the past. These people have wealth and want an advisor who understands them.
"Being a financial adviser is about bringing value to your client. In many cases, it's not at all about how a stock is doing."
Amy says she believes that clients want someone who cares about their life and wants to help them accomplish their goals. This is why Amy is so committed to effecting change in the profession.
Throughout her career, she took on leadership roles because "it was so important that diversity, women and LGBTQ+ had a place at the table. I want them to be visible in whatever office, whatever boardroom they're standing in. It's good for the firm and the evolution of leadership to have more diversity, but it's also saying to every single person that sees me that they can be me."
A perfect fit
When Amy joined Raymond James in 2021, she knew from day one she landed in the right place.
"My first day was also the first day of the virtual Business of Pride Symposium," she said. "So my whole first week at Raymond James was spent watching this virtual pride symposium, which was pretty cool. I get this big welcome box with all this pride stuff. It was heavenly."
It was the most perfect way to be welcomed into the firm, Amy said, adding that she wants to make sure others understand what a supportive environment they could have at Raymond James.
"I want people to realize they can work in a place that has better resources than they have now," she said. "They can actually be happy and like their job again – because of who they work with, the temperament of the leadership and progress of the firm."
She's witnessed other firms talk the talk about diversity and pride. But it's another thing to actually walk the walk.
"Raymond James is better because we invest a lot of money in educators, curriculum designers and professionally designated coaches to run the development programs," Amy said. "During the pandemic and the economic crisis, other firms cut their programs. Raymond James hasn't cut; we have actually expanded."
In addition to her efforts with the Pride Financial Advisors Network, Amy proudly serves on the firmwide diversity, equity and inclusion advisory council. She takes her service seriously and is committed to contributing to progress within the firm, financial services and the world around us – so no one else has to experience what she did being introduced to her very first client.
"I want people to realize they can work in a place that has better resources than they have now. They can actually be happy and like their job again – because of who they work with, the temperament of the leadership and progress of the firm."
This piece was featured in Pride Perspectives, a biannual newsletter from the Pride Financial Advisors Network. View the latest.
---
Follow along on social media with #RJPFAN.