Take 10 With Jim Bunn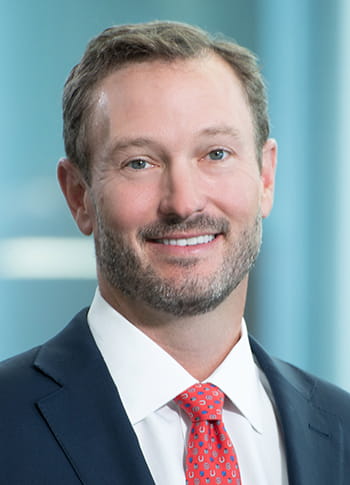 Meet Jim Bunn, president of Raymond James Global Equities & Investment Banking. Under Jim's leadership, the Investment Banking team has achieved incredible results and experienced significant growth. Read on as Jim opens up about his career advice, shares his inspiration, reflects on recent successes and looks forward to the future.
What have the impacts of the pandemic and high volumes of M&A activity in the last year shown you about the strength of Raymond James Investment Banking?

Over the last 18 months, I've really seen our team's ability to innovate and thrive. Before the pandemic, the notion that we could stay connected to our clients, market a transaction and facilitate due diligence and negotiations without being face-to-face seemed impossible. Today, we've learned to almost completely reinvent the way in which we go about building relationships, executing M&A transactions and raising capital. While in-person meetings will always have an important role in our business, we realize now that we can do a lot of our work remotely, which enables us to be significantly more productive than we could be when we were living on airplanes and in taxis.

Raymond James acquired Financo, the leading consumer advisory boutique, in 2020. How do you believe this has and will shape the Consumer & Retail group at Raymond James?

We are thrilled to have the Financo team join Raymond James. The partnership has already delivered a transformative effect on our Consumer practice. Through the acquisition of Financo, we became a global leader in the Consumer space overnight. Before we made the acquisition, I asked one of our mutual clients in the private equity business about Financo and his experience working with them. He said to me, "Jim, if you want to be a major player in the Consumer Investment Banking business, you should acquire Financo and I would be hard pressed to tell you what your second best option is." He also raved about John Berg's (Financo's CEO) leadership and the quality of the rest of the Financo team. Everything he said about the Financo team has proven true. They are a talented team that works relentlessly to deliver results for their clients. We're excited about the future of our combined partnership.

You followed the Financo acquisition with the acquisition of Cebile, a private equity secondaries advisory business. What prompted the decision to offer a new product and what will the combined partnership of Raymond James and Cebile Capital bring to the table?

Private equity is an extremely important client base for us – more than 70% of our M&A activity involves private equity on one side or the other. As a result, we're always looking for ways to deepen our relationships with private equity clients and become one of their most trusted and valued relationships. At the same time, we're always interested in adding differentiated capabilities to our platform. The GP secondary advisory business was particularly interesting because of its very rapid growth since emerging as a product just a few years ago. The acquisition of Cebile allows us to achieve both goals, giving us new capabilities – secondary advisory and fund placement – to offer to some of our best and most important clients. We think there is tremendous synergy from introducing our private equity relationships to the Cebile team and coupling Cebile's transaction expertise with the industry expertise of our bankers. It also creates an opportunity for Raymond James' high-net-worth clients to invest in Cebile's deal flow, making this not only an exciting opportunity for Raymond James Investment Banking, but also the firm at large.

Raymond James has implemented incentives to foster a better working environment for junior bankers. Why is this important to you?

It's important to me for a couple reasons. First, I think investment banking can offer a wonderful long-term career, and it's a shame to see some of our young, high-potential bankers opting out of the business before they have a chance to fully appreciate the opportunities that can come along with this career. More importantly, we are so much more productive and effective when we have cohesive, high-functioning teams, from managing directors to analysts and admin support team members. We need to provide professional development, mentorship and resources to all of our bankers to help them deliver the results our clients expect and outperform our competitors. If we provide the best environment for young bankers to learn and develop, then we'll continue to attract the best talent, and that will enable us to continue to be successful and to develop the next generation of great bankers.

You've been spotted on CNBC recently. Give us a quick market wrap-up for the industry this year and your expectations for next year.

We've been in a very strong M&A and capital markets environment since about June of 2020, and that's continuing into 2022. Some of the market drivers will fade – government stimulus and concerns about tax reform – but many others will not. Corporate cash balances are at all-time highs, interest rates are low, equity market valuations are historically strong, private equity firms have massive amounts of capital to deploy and there are hundreds of SPACs out there searching for acquisition targets. All of those factors combined cause me to be very optimistic on the outlook of our business well into 2022. The greatest risk is likely something we don't see coming – a black swan type of event – but that's impossible to forecast.

We have seen Raymond James Investment Banking report strong year-over-year growth in the last several years. To what do you attribute this success?

The growth we've experienced recently comes down to the quality of our people. For the last several years, we have consistently recruited good bankers across all of our industry and product groups as well as geographies. It often takes a couple years for a banker to realize his or her full productivity at a new firm. We're starting to see many of those bankers become very successful at Raymond James. In addition to recruiting externally, we're equally focused on developing internally. Many of the senior bankers contributing to our revenue growth today have been with us for many years and have come up through the ranks to develop their own practices. Some even started as analysts and associates and have been mentored by some of our great senior leaders. Lastly, we've had great success with the acquisitions that we've made. Those acquired firms have come onto our platform and grown their business – sometimes to multiples of their revenue base – before they became part of Raymond James. Overall, we're very excited about the growth we've realized over the last few years and we're even more excited about the growth we believe is ahead of us.

You became head of Investment Banking a young age. What enabled you to reach your career goals and what advice would you give others?

I'm grateful for the opportunities that Raymond James has provided for me to advance my career, but I've never been motivated by title or promotion. I've always just tried to focus on doing the very best I can in the job that I have at the time and trusted that, if I excel in my current job, other opportunities will open up for me. That philosophy has worked well at every stage of my investment banking career. I'd encourage others not to worry too much about what's next and instead focus on being great at the job that you have right now.

Who is your favorite non-finance inspirational human and why?

That's easy – Tom Brady. Several things have always impressed and inspired me about Brady. First is his unrelenting work ethic and commitment to getting better every day. Second is his humility and team-first attitude – he never takes anything for granted and approaches his role like he has to earn his job every day. I also really admire how he always remains focused on the future, rather than celebrating what he's accomplished in the past. After winning his fifth professional football championship, he was asked which win was his favorite. His response was, "The next one." That's always been one of my favorite quotes.

What is a mistake you made as a junior banker that you will never forget and how did you grow from it?

When I was a first-year associate, I worked on a board presentation and had the opportunity to attend the meeting. During the presentation, I remember flipping to a page that had a mistake I should have caught and fixed. The senior banker delivering the presentation had to acknowledge the mistake and promise to send a corrected page after the meeting. I wanted to crawl under the table and hide. I committed to double and triple checking my work after that experience!

Tell us three fun facts about yourself outside of work!

I took a bit of a non-traditional path into investment banking. In between undergrad and graduate school, I worked as a horse trainer, a bellman in Vail and a marketing assistant for the Detroit Red Wings (my favorite hockey team growing up). Many of our most successful bankers also came into the business from a path outside of the traditional business school undergrad/investment banking analyst route. While that route certainly produces many great bankers, my own experience has led me to be very open-minded about the type of degree and work experience we look for in people we hire.

My second fun fact would be that my passion outside of work has become golf. I didn't grow up playing the sport, but I have fallen in love with it over the last several years. In addition to providing a much-needed competitive outlet, I love that golf provides opportunities to get better every day and every time you play.

Lastly, my wife and I have one child – our son, Drew, who is 16 – and his interests are a bit different than mine were at his age. His first love is football. I was very proud to watch him quarterback his high school team to the first football state championship in the history of the school last season. He'll be a senior in 2022, and my wife and I will enjoy rooting for him and his team to defend their title.