Advice
Top 10 Tips From Your Recruiters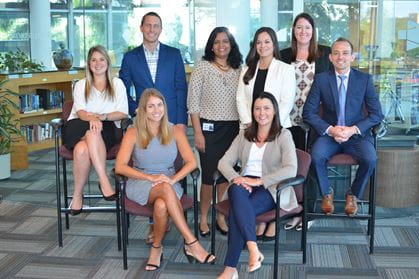 Front row: Ashley Malone, Rebecca Mohan-Gonzales. Back row: April Wingate, Alex Tilbrook, Seema Venugopal, Erika Carter, Leslie Schilp, Nick Morolla.

1. Research:
Read about Raymond James' operating model with our heavy focus on the Private Client Group and our other revenue and non-revenue drivers/support functions. To hear more about our culture, we'd encourage you to review our Culture & Diversity All Access Careers Blog for a behind-the-scenes look at our firm.
2. Resume:
Highlight your most relevant experiences, extracurricular involvement and work product. Try to keep your resume to 1-2 pages.
3. Apply:
Choose about 2-4 opportunities that fit your skill set and career goals well. Keep in mind that the recruiting team might consider your application for other roles throughout the firm as well.
4. Prepare:
Reflect upon times where you've shown teamwork, collaboration, leadership, etc., to prepare for behavioral-based interview questions. Past performance in similar situations is the best way for a recruiter or manager to gauge future performance, so focus on experiences that relate to the job for which you're applying. Additionally, be aware of and be able to speak to your strengths and weaknesses.
5. Practice:
Record yourself sharing answers; rehearse in front of trusted contacts.
6. Interview:
Whether it's a video, phone or in-person interview, remember your audience. Give 100% attention to the interview and stay focused on the discussion. If taking a phone/video interview, ensure you're in a quiet space without distractions.
7. Communication:
Be clear and concise in communication. Be able to speak to what is on your resume, especially recent experience and relevant skills. Practice active listening.
8. Be authentic:
You know your story best. Share how you feel like you can bring your unique background and skills to the firm and this role.
9. Questions:
Ask pre-prepared questions pertinent to the interview and to your interviewers, and leave some room for follow-up questions that arose from the interview conversation.
10. Follow up:
Send a follow-up note or email to your interviewers/recruiter to thank them for their time, remind them of specific points upon which you spoke in the interview, and to reinforce your interest in the role. Ask your interviewers if they would be amenable to connecting on LinkedIn.