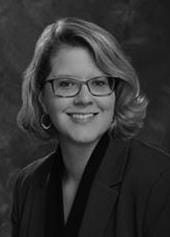 Amy Smart
Managing Director, Cleveland Complex Manager
Cleveland, Ohio
Amy Smart is the Complex Manager for Northeastern Ohio covering the offices of Beachwood, Westlake, Medina, Fair Lawn, and Hermitage, PA. Amy is an experienced leader who has demonstrated an ability to create a highly functioning environment, recognizing and growing talent, while maintaining a culture of support, compassion and inclusion. Amy joined Raymond James after a financial services career with Merrill Lynch.
Amy has deep roots in wealth management, beginning her financial services in 2006 entering the financial advisor training program at Merrill Lynch in Pennsylvania. After successfully completing the financial advisor training program, she expanded her career to include a role in leadership becoming the producing Complex Sales Manager of Eastern PA and then producing Resident Director in State College, PA. Amy completed the rigorous Merrill Leadership in Development training before taking on the role of Merrill Market Executive in Minneapolis. Amy understands what it takes to build a business and be an Advisor, she sees herself as a partner to the advisor, the connector of information and resources, to solve the needs of the client and the advisors business. Throughout her career, Amy has maintained her commitment and passion for wealth management, the benefits of planning, and the critical role of the advisor.
Amy believes that the Raymond James values speak for themselves: Client first, Integrity, Independence, and taking a conservative long term view. In her words, "Raymond James isn't like every other Wall Street firm… thankfully! It only takes one visit to a local office, one conversation with an Advisor, or a trip to the home office to see and feel the difference. Associates at all levels are expected to grow professionally, make prompt and pragmatic choices and act with the client in mind, take ownership and hold themselves and other accountable for delivering results that matter, and contributing to the continuous evolution of the firm", described by Amy.
Throughout her career, Amy has championed and has been commitment to delivering a diverse workplace, ensuring a safe and inclusive workplace. She believes, "you have to see it, to be it" and she has dedicated her time and efforts to "be in the front of the room" even though it may have had an adverse impact on her personal career at times.
Amy's unwavering passion for an inclusive workplace led her to many appointments and nominations during her time at Merrill Lynch, and the broader organization of Bank of America. Through these executive level positions, Amy was able to cultivate partnerships with senior leadership, where she could educate, gain support and understanding, and drive resources. Ultimately, being able to weigh in on timely issues affecting the firm and/or its employees, like to infamous "Bathroom Bill" in North Carolina and so many others like it.
Amy at her prior firm served on several boards including the LGBT+ Executive Leadership Council as well as Women's Exchange Council. She has served as a board member for Pride of the Leigh Valley as well as Lehigh Valley FACT. Serving as an educator to financial advisors on LGBT+ planning as well as mentoring associates, Amy has dedicated her time to moving the needle forward.
Amy has a Bachelor's degree in English/Journalism and minors in Speech and Public Relations. Amy's previous years of work experience includes successful sales and leadership roles in both the advertising and pharmaceutical industries. She currently lives in Pepper Pike, OH with her spouse of 26 years, Barbara. They have two English Springer Spaniels, Finnegan and Luna, and an orange tiger cat, Jake.