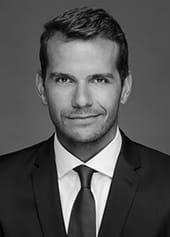 Tomas Artner
Managing Director
Munich
Tomas Artner joined Raymond James in 2018, and he leads the European digital consumer team out of Munich, Germany. He has more than 11 years of investment banking experience, focusing on transactions in the digital consumer and consumer tech space, spanning from high-growth to mature businesses, especially within direct-to-consumer, e-commerce and online travel. In addition, due to his personal background and network, Mr. Artner also covers Central and Eastern European transaction opportunities.
Prior to joining Raymond James, he worked for PwC, Deloitte and Jefferies in Germany and UK. Mr. Artner holds a bachelor's degree in finance from Temple University, Fox School of Business in Philadelphia and a master's degree in finance and accounting from the University of Edinburgh.
Some of his recent deals include Alphapet, Vice Golf, Displate, Vicampo, VakantieDiscounter, FAVI Online, Szallas and Footshop.
tomas.artner@raymondjames.com | +49.89.2323.7772