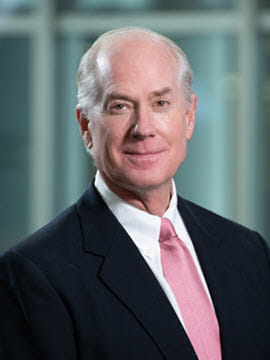 John C. Carson Jr.
President
Raymond James Financial
John Carson is president of Raymond James Financial, Inc. and a member of the firm's executive committee. He also serves as head of the Fixed Income and Public Finance divisions, as well as head of Corporate Development for RJF.
Mr. Carson joined Raymond James in April 2012 when Morgan Keegan was acquired by Raymond James. He joined Morgan Keegan in the fixed income department in 1994 and became chief executive officer of Morgan Keegan & Company in 2008. He served on the ALCO and management committees of Regions Financial Corporation from 2007 to 2012.
Mr. Carson began his career at Chase Manhattan Bank in New York and in Caracas, Venezuela, where he focused on correspondent banking and currency arbitrage. He subsequently joined Morgan Stanley & Co., where he traded repo, U.S. agency debt, and mortgage-backed securities in New York and Tokyo. He briefly worked for Security Pacific as director of agency trading in Los Angeles and subsequently U.S. dollar-denominated trading in Tokyo, before returning to Morgan Stanley to serve as manager of asset-backed products in Asia.
Originally from La Jolla, California, Mr. Carson holds a Bachelor of Arts degree from Dartmouth College, with a double major in International Economics and History, and an MBA from Harvard Business School. He and his wife, Suki, have four sons.